Latest Issue of Jaynotes Hits Mailboxes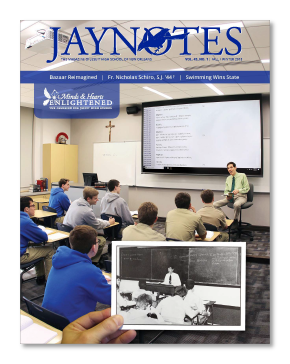 The latest issue of Jaynotes, the magazine of Jesuit High School, has arrived to mailboxes.
Click here for the digital version.
Cover Story
Minds & Hearts Enlightened: A Bright Vision for Jesuit's Future

Alumnus of the Year: Dr. Elmore Rigamer '58
A School of Heart: Jesuit Remembers Fr. Nick Schiro S.J. '44
Swimming Wins 40th State Title
Reimagined Bazaar: New Friday Night Party
Taking the Time, Making the Drive: Thanksgiving Drive
The Golden Football Returns: Great American Rivalry
Eat, Drink, & Be Scary: Celebration – A Spooky Soirée
Report of the President
… and much more!
Address Updates
Does Jesuit have your current contact information? Use the links below to stay in touch with Carrollton & Banks: