After Being Inducted into Ring of Honor, Will Clark '82 Visits Jesuit
In one week Will Clark '82—the San Francisco Giants, Mississippi State, and Jesuit baseball legend—took a backwards journey down memory lane.
After his induction into the Mississippi State Baseball Ring of Honor, where he was recognized with a bronze statue in front of the stadium, Clark visited the Jesuit baseball team on Friday, Feb. 22. Before practice every Jesuit baseball player, from 8th grade to varsity, was given the chance to hear Clark's baseball advice and ask questions.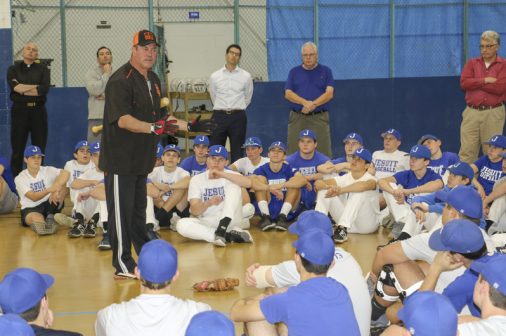 "It's been amazing," Clark said with a smile on his face. "I always love being back here, seeing the guys and giving them as much information as possible. Being a Blue Jay alumnus, the least I can do is give back to my alma mater." The players were a bit shy at first, but once someone broke the ice, plenty of good questions flooded in. "I just hope each player picked up at least one thing from my talk to help them with their baseball career," Clark concluded.
On his walk down memory lane, Clark said, "I'm going in reverse order this week—from the pros to my college campus and then here. Mississippi State retired my jersey and dedicated a statue of myself and Rafael Palmeiro in front of their new stadium. It was pretty special. And now being back at Jesuit, it reminds me of my roots, you know? My roots at Jesuit are what made me a pro ball player."
Clark currently works in the San Francisco Giants front office after spending five seasons as an advisor for the Arizona Diamondbacks. Jesuit congratulates Clark on his induction and thanks him for spending the afternoon with the baseball team.
See Related…
(WATCH) CrescentCitySports.com | Video: Will Clark inducted into Mississippi State Baseball Ring of Honor
ClarionLedger.com | What Rafael Palmeiro, Will Clark said about their Mississippi State statues
MercuryNews.com | Will Clark gets a big bronze statue, but not in San Francisco (yet)
StarkvilleDailyNews.com | Polk Ring of Honor series: Will Clark