Students Witness Impact of Dangerous Decisions at Mock Trial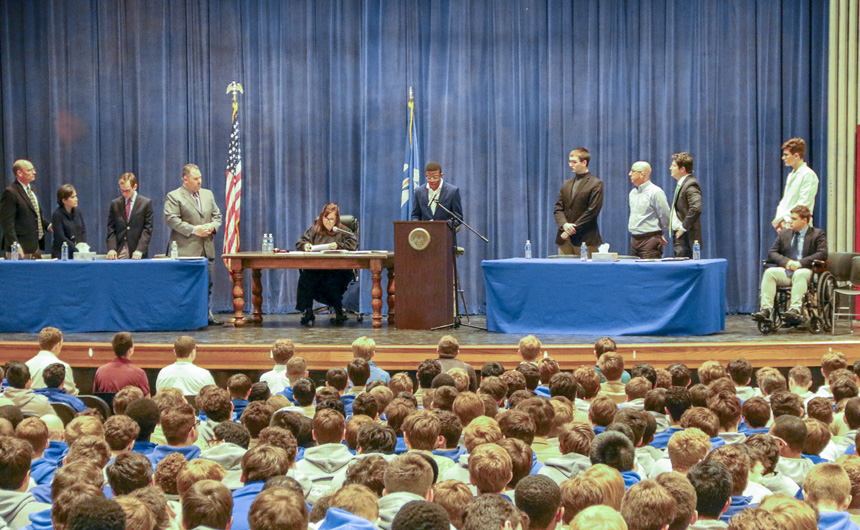 On Friday, Feb. 15, the guidance department hosted two presentations to educate students on the consequences of dangerous decisions. Jesuit partnered with University Medical Center (UMC) and Louisiana State Police to put on the a mock trial for juniors and seniors in the auditorium. Meanwhile, underclassmen reported to they gym to hear a presentation on the topic of internet safety by Asst. U.S. Attorney, Brian Klebba.
View the Photo Gallery from the Mock Trial and Internet Safety Presentations
This year's mock trial was a follow-up from the mock car crash held last March. Students in the Philelectic Society returned to portray the major characters who were a part of the mock crash. Senior Alex "Dusty" Doll portrayed the intoxicated driver, now standing trial for three charges. Junior Ben Schaubhut was the sober driver serving as the prosecution's primary witness, and senior Cole DiMaggio was the severely injured passenger now in a wheelchair. The participants were cast and coached by Phils director Kate Arthurs-Goldberg.
Retired news anchor Dennis Woltering provided context for the trial, highlighting the particular dangers of driving while impaired, texting while driving, and driving while not wearing a seat belt. In many cases, Louisiana law has higher standards for drivers under the age of 21. Bridget Gardner and Patricia Clesi, UMC nurses working through the Sudden Impact program, were also on hand to coordinate the day and educate students about the consequences of their decisions.
"The overall theme for the presentation is prevention," said Stephen Maffei '08, who coordinates Jesuit's Student Assessment program. "This stuff happens every day, and it can happen to anyone, so it's important for our students to understand the consequences of their actions and know that one bad decision has the potential changes many lives."
The 8th, 9th, and 10th graders spent their assembly period hearing about internet safety by Asst. U.S. Attorney Brian Klebba. Klebba is Chief of the Fraud Section of the U.S. Attorney's Office and Coordinator of Project Safe Childhood, a nationwide initiative launched in May 2006 by the Department of Justice to combat the growing epidemic of child sexual exploitation and abuse. The presentation focused on the legal consequences associated with inappropriate internet usage.