Father-Son Night Creates Memories
"Who in their right mind would pass up a steak dinner with the old man four years in a row?"
Senior wrestler DJ Ferrier did, but not intentionally, he explained in his tribute to his father Darren Ferrier. "I had some regrets [about missing four years in a row], but then I started to remember what those Saturdays usually entail, what stars had to align just to sneak in a few hours of father-son bonding," DJ said before noting that wrestling tournaments always conflicted with Jesuit's Father-Son event. Mr. Ferrier smiled as he watched his son on the chapel podium, just as he watched his son for all those Saturday wrestling tournaments.
More than 500 fathers and sons attended the 2019 Father-Son Mass & Dinner on Saturday, Jan. 12. This year's event featured two heartwarming speeches after Mass and before dinner—senior Braden Bent's on his father Brian, and DJ Ferrier's on his father Darren.
Watch the Video of Bent's Tribute | Watch the Video of Ferrier's Tribute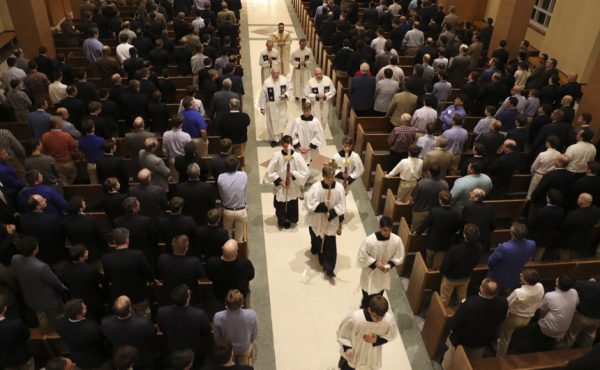 View the Photo Gallery from the Father-Son Mass and Dinner
The 5 p.m. Mass in the Chapel of the North American Martyrs was celebrated by Jesuit superior Fr. John Brown, S.J. Concelebrating were president Fr. Christopher Fronk, school chaplain Fr. Kevin Dyer, as well as Frs. Donald Saunders and Paul Shaughnessy, all members of the Society of Jesus.
Following Mass and the two tributes, attendees made their way to the Student Commons for a delicious dinner (efficiently served to all in less than 15 minutes). It included a Texas-size steak or chicken, green beans, garlic mashed potatoes, a roll, and mouth-watering bread pudding. The meal was prepared on-site by young alumnus Max Gruenig '06 and his team of talented cooks.
Jesuit thanks Loupe Photography, who was on campus to take portraits for a nominal fee for those who wished to have a memento of this special occasion.
Jesuit also thanks Blue Jays and their fathers for participating in the Jesuit Father-Son Mass and Dinner. This evening of fellowship creates an opportunity for fathers and sons to grow, and the post-Mass tributes reminded Blue Jays to never be afraid of showing love.
"There isn't a morning that goes by that I don't tell my Dad I love him," Bent said in closing his tribute. "It's the least we can all do for the men who have taught us, through example and love, how to be men of faith and men for others."