Jays Lose Early Lead, Fall to Tigers in Overtime
The Blue Jay basketball team (21-3, 2-1) played an inspiring 1st Quarter in their district match-up on Tuesday night against Holy Cross. Shots were falling, defenders were forcing turnovers, and a spirit of confidence filled the Birdcage as the Jays shot ahead of the Tigers 20-4 in the opening period of play.
Unfortunately, that level of play only lasted eight minutes. After the half-way mark in the 2nd Quarter, the Jays' shooting fell off almost entirely. Holy Cross clawed their way back into the game minute-by-minute until a last-second three-pointer tied the score at 40-40 to close the 3rd Quarter.
The Jays meanwhile failed to make a three-pointer after halftime. They were able to generate points by penetrating the lane and picking up the fouls needed to get in the bonus. Holy Cross committed eight team fouls in the 3rd Quarter alone, so the Jays fought hard from the free throw line to stay in the game and force an overtime period.
Their second strategy, however, failed them in the end. The Jays went 2-9 from the charity stripe in overtime and fell to the Tigers, 58-55.
Through the Lens…
View the Jesuit vs. Holy Cross Photo Gallery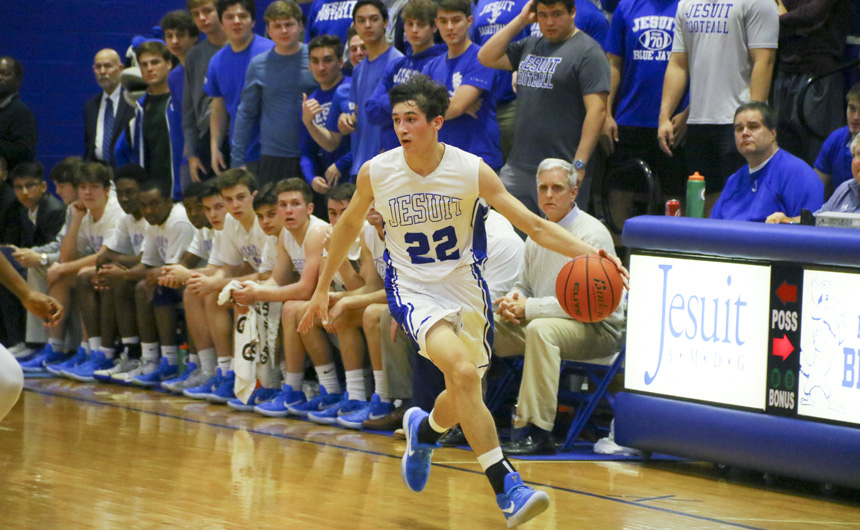 By the Numbers…
| | |
| --- | --- |
| Elijah Morgan (#10) | 23 points, 9 rebounds |
| Noah Varnado (#23) | 13 points |
| Robert McMahon (#22) | 11 points, 7 rebounds |
| Nick Artigues (#21) | 5 points |
Read More…
NOLA.com – Holy Cross 58, Jesuit 55: Tigers complete huge comeback to win in OT
The New Orleans Advocate – Holy Cross rallies from 19 down to top Jesuit in overtime
On the Horizon…
The Blue Jays are 2-1 in district play and face Shaw on Friday night at Shaw. Tip off is set for 7 p.m.