Phils Seeking Parent Volunteers for Fall Musical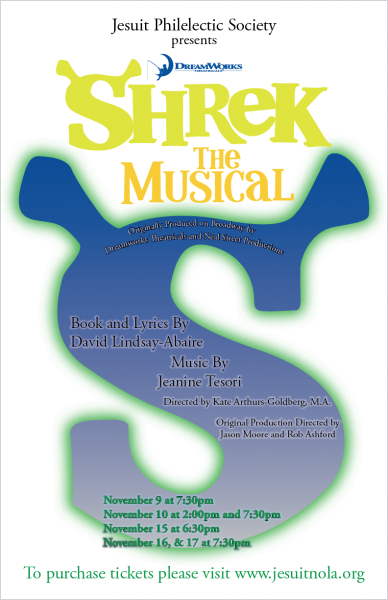 The Jesuit Philelectic Society will be presenting its fall musical production of "Shrek The Musical" in less than a month and is in need of handy or crafty parent volunteers to assist with set building or decorations. If you are interested in helping please contact Kate Arthurs-Goldberg at arthurs@jesuitnola.org or 504-483-3877. Any help would be greatly appreciated!
Show Summary
"Shrek The Musical" is the tale of an unlikely hero who finds himself on a life-changing journey alongside a wisecracking Donkey and a feisty princess who resists her rescue. Throw in a short-tempered bad guy, a cookie with an attitude and over a dozen other fairy tale misfits, and you've got the kind of mess that calls for a real hero. Luckily, there's one on hand… and his name is Shrek.
Ticket Prices
Tickets may be purchased at break and lunch from the Philelectic office beginning November 1, and are available now online.
Adult – $15 advanced purchase / $20 at the door
Student – $10 advanced purchase / $15 at the door
Show Dates & Times
Friday, November 9 @ 7:30 PM
Saturday, November 10 @ 2:00 PM and 7:30 PM
Thursday, November 15 @ 6:30 PM
Friday, November 16 @ 7:30 PM
Saturday, November 17 @ 7:30 PM