Jays Take First Catholic League Loss to Curtis, 23-0
The Jesuit football team took its first loss since August on Friday night at Tulane's Yulman Stadium, falling 23-0 to the Catholic League No. 1 seed, John Curtis (6-0, 2-0).
Ranked first in the state by The Advocate's Super 10 Large School Poll and NOLA.com's Louisiana Sports Writers Association Prep Football Polls, the Curtis Patriots played stifling defense and prevented Jesuit (4-2, 2-1) from reaching 100 total yards on offense. Unable to develop any offensive rhythm, the Blue Jays' defense was forced to spend far too much time on the field, explained head football coach Mark Songy.
The Blue Jays' defense gave up seven points in the first half and 23 total, a number which falls in the middle of their "points allowed" list this season. Jesuit allowed 27 in the season-opening loss to Warren Easton, 24 in the win against St. Paul's, 19 against Central, 21 in the nail-biting victory over St. Augustine, and just seven against Holy Cross.
Through the Lens…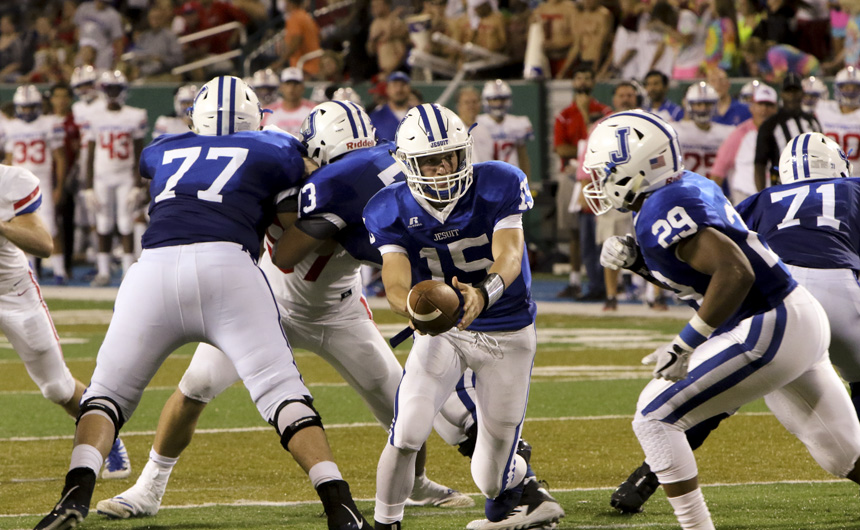 View the Photo Gallery from the Jesuit-Curtis Football Game
By the Numbers…
Jesuit: 75 yards of total offense (66 rushing, 9 passing)
John Curtis: 274 yards of total offense (168 rushing, 106 passing)
Passing: Robert McMahon, 3-12, 9 YDS, 2 INT
Rushing: Brayton Whittington, 17 CAR, 94 YDS; Willie Robinson, 6-0; R. McMahon, 5-0; Team (-38)
Receiving: Noah Varnado, 1 REC, 6 YDS; Luke Besh, 1-0; B. Whittington, 1-3
Scoring Summary
FIRST QUARTER
JHS
JCC
TD
1:00
Shane Goins 22-yard run
0
7
SECOND QUARTER – NO SCORING

0
7
THIRD QUARTER
TD
7:32
Cory Wren 5-yard run
0
14
FOURTH QUARTER
FG
7:40
Austin McCready 41-yard Field Goal
0
17
TD
6:14
Joel Taylor 22-yard pass from Collin Guggenheim
0
23
In His Words…
"We just couldn't get anything going offensively," Jesuit coach Mark Songy said. "They're an exceptional defensive football team, and they're very patient offensively.
"Our defense did play well for quite a while, but offensively we couldn't couldn't get any kind of rhythm, and it's a credit to how good John Curtis' defense is. We kept leaving our defense on the field."
"I think Curtis should be (ranked) No. 1 in the state," Coach Songy added.
On the Horizon…
Jesuit travels to Joe Yenni Stadium on Saturday, Oct. 13, to take on Rummel for its week 7 game. The game kicks off at 7:00 p.m.
Read More…
TheAdvocate.com | John Curtis shuts down Jesuit in 23-0 victory