Jesuit President Fr. Christopher Fronk, S.J., Addresses Students at Morning Assembly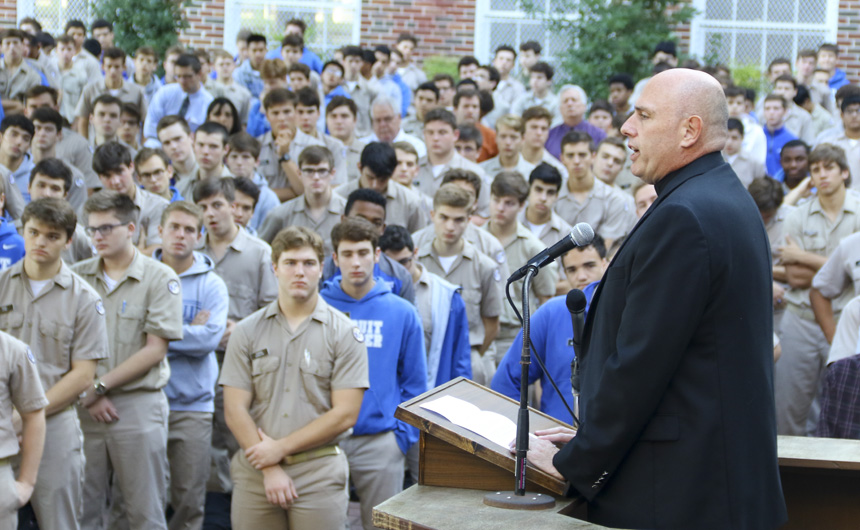 On Friday, Sept. 21, at Morning Assembly, Jesuit president Fr. Christopher Fronk, S.J., addressed the student body to discuss recent news of what can only be described as horrible actions by school employees decades ago. He began by reiterating his disgust with sexual abuse and his heartbreak for any victims.
"And as my heart aches," Fr. Fronk said, "I am also incredibly angry at those who have abused. I put this collar on every morning with pride, and I am furious that some who have worn a collar in the past were abusers. They are not representatives of religious life."
He also communicated the consolation he had looking out at students and faculty, whom he called "an incredible group of people who provide so much that is good." He then assured students that their safety is of the utmost importance for him.
He referenced the letter sent to their parents, which explained the process that each person has to undergo in order to work at Jesuit: "Every employee goes through two independent criminal background checks, state and federal. Additionally, we go through safe environment training. The Jesuits in residence go through these same checks, in addition to annual training through the Central and Southern Province of the Society of Jesus."
He then reminded students that school personnel are all mandatory reporters, which means that any allegation of sexual abuse against someone who is a minor will be immediately reported to law enforcement.
He urged students to be confident that the Jesuit High School community is committed to their education, safety, and security, specifically pointing to guidance counselors and teachers.
Fr. Fronk concluded his remarks by urging students to hold on to their faith: "Trust in the God who loves us and continues to lead us to that which is good and holy. Let's pray for the victims of abuse, and let's pray for one another."