Christian Rhodes Kicks Off St. Peter Claver Lunchtime Speaker Series
The St. Peter Claver Club launched its Lunchtime Speaker Series on Thursday, September 20 with a visit from local attorney Christian Rhodes.
Rhodes, who practices with the firm of Roedel Parsons, addressed club members on the topic of "Navigating the Majority Experience."
A big chunk of that navigating was in Jesuit schools. Rhodes graduated from Loyola High School in Los Angeles and Fordham University in New York before earning his J.D. from Loyola University at New Orleans.
"I'm a huge fan of Jesuit education, obviously," Rhodes laughed. "I even married into a Jesuit family (his father in law is Jesuit grad and New Orleans sheriff Marlin Gusman).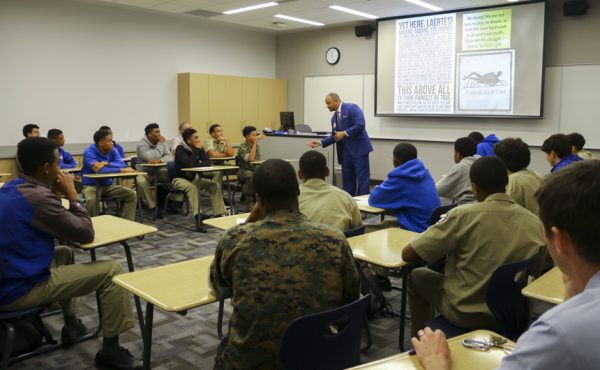 Jay Combe '83, who co-moderates SPCC along with Chris LaMothe, was appreciative not only of Rhodes, a personal friend who didn't hesitate when asked to be the group's inaugural speaker, but also of the Jesuit administration.
"I'm so glad my alma mater recognizes the need for a diversity club like ours and allows us to bring in speakers who help current students find their way."
SPCC president Rayvan Bellazar and vice president Dylan Davidson stuck around with several other students to bend Rhodes's ear for an additional 15 minutes after the formal presentation ended.
"He really had a lot of good advice," said Davidson.
"My whole life has been that of a minority playing in a majority world," said Rhodes. "I hope I was able to impart some of what little wisdom I've gleaned on to the boys today."