The Jesuit Legacy Continues at Senior Ring Mass
The annual Ring Mass makes many Jesuit families feel a special sense of belonging as Blue Jays begin their senior year. Most students receive their own ring, but some have a ring passed down to them from a family member who is a Jesuit alumnus, a tangible sign that the legacy of Jesuit formation is being handed on through the generations.
Check Out the Full Photo Gallery
Seniors in the Class of 2019 received their rings on Saturday, Sept. 8, at Mass in the Chapel of the North American Martyrs. Many faculty, family, and friends were on hand for the Mass, for which Fr. John Brown, S.J., was the principal celebrant.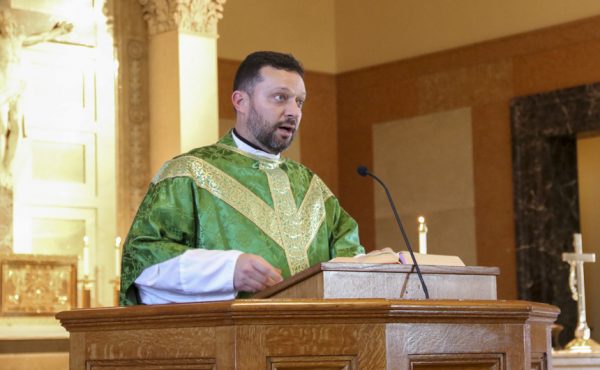 During his homily, Fr. Brown preached on Jesus's healing of a deaf man with a speech impediment. He asked the class to consider ways that they remain deaf to the proposition of faith or unwilling to speak about their faith to others. "You are about to begin wearing a ring that says that people can expect something from you!" Brown said. "It's not a trophy. It is a symbol of what kind of man you are, a Jesuit-educated man of faith and a man for others, open to growth, intellectually competent, religious, loving, and committed to doing justice."
After the homily, Jesuit rings were presented to the 272 seniors gathered in the chapel. Jesuit president Fr. Christopher Fronk, S.J., distributed each ring as the senior's name was called. At the conclusion of Mass, seniors processed out of the chapel and enjoyed taking pictures with their loved ones. Later that night, seniors celebrated the milestone at the Senior Ring Dance, held at The Cannery in Mid-City.