Dr. Elmore F. Rigamer, Jr. '58 Honored as 2018 Alumnus of the Year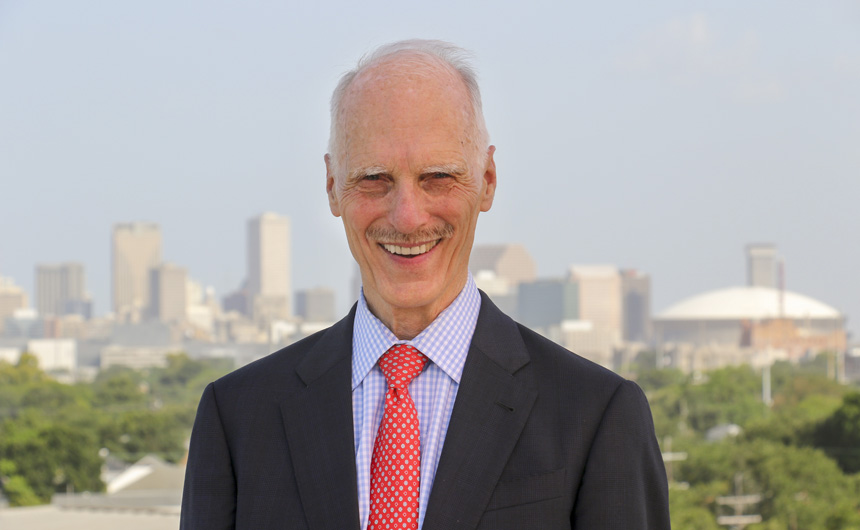 Dr. Elmore F. Rigamer of the Class of 1958 has been named Alumnus of the Year of Jesuit High School for 2018. The award is given annually to an outstanding alumnus who is recognized for his achievements and distinguished service, either to Jesuit or the community-at-large, and in many instances, both. In making the announcement, school president Fr. Christopher Fronk said, "Dr. Rigamer's resume speaks for itself. So much of what he has done has been in service to community members who normally would not have access to the medical care they need, especially mental health care. Dr. Rigamer is what we strive for in our students here, a man of conscience and compassion to be a man of faith and man for others."
When asked his reaction when Fr. Fronk gave him the news, Rigamer said, "Frankly, I was a bit emotional. I never in the world expected this. I felt all at once gratitude, humility, and the realization that I have to live up to this."
When asked what Jesuit has meant to him, he said, "Jesuit instilled in me a sense of work and responsibility. The Jesuits taught us that we should use our education to contribute to others. I believe that throughout my career this has always been there guiding my actions."
After graduating from Jesuit in 1958, Rigamer remained with the Jesuits at Spring Hill College where he earned a B.S. degree in 1962. In 1966 he received his medical degree in psychiatry from the Louisiana State University School of Medicine, New Orleans. His clinical training in psychiatry was done at the New York Hospital-Cornell University and Albert Einstein College of Medicine in New York. He received his Master of Public Administration from Harvard.
Today Rigamer is the medical director of Catholic Charities of the Archdiocese of New Orleans. As such, he is responsible for increasing access to quality health care for vulnerable populations. To achieve this goal, he co-founded PACE, a Program for the All Inclusive Care for the Elderly which provides an alternative to nursing home care. Following Hurricane Katrina, he managed disaster recovery programs and worked tirelessly to reestablish mental health programs in the Greater New Orleans area.
Dr. Rigamer began his career as a Peace Corps volunteer physician in Africa which led to a 20-year career of service with U. S. State Department eventually becoming its medical director. As a member of the U.S. Foreign Service, he became the organization's first psychiatrist sent abroad, charged with developing an overseas mental health program for diplomats and their families.
Upon his return to the States, Dr. Rigamer co-founded PATH, the Partnership for Access to Total Healthcare, sponsored by the four Catholic health care organizations in Louisiana to improve systems of care of the medically underserved.
Dr. Rigamer has lead numerous initiatives to enhance health care availability for the marginalized in the New Orleans area. In recognition of this, he was named a 2008 Healthcare Hero by New Orleans City Business magazine.
Dr. Rigamer and his wife Marianna have been married for 52 years and have two married daughters, Catherine, who has two sons, and Elizabeth, who has two sons and one daughter.
Rigamer will receive the Alumnus of the Year award during Jesuit's Homecoming Mass on September 29 in the Chapel of the North American Martyrs on the campus of Jesuit High School.
View the list of all Alumnus of the Year honorees, from 1958 – present.