Archbishop Aymond Visits Jesuit for Mass of the Holy Spirit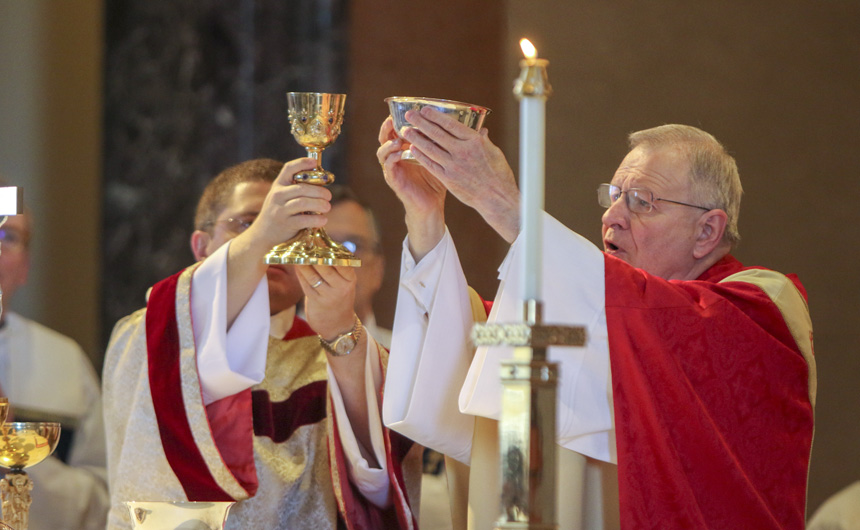 Jesuit schools across the world begin the academic year with a Mass to invite the Holy Spirit more deeply into the hearts of school community members. The Mass of the Holy Spirit was celebrated at Jesuit on Friday, August 31, and this year's celebration was enriched by the presence of Archbishop Gregory Aymond.
Watch the Video of the Homily by Archbishop Aymond
View the Photo Gallery of the Mass of the Holy Spirit
Students, faculty, and administrators gathered in the Chapel of the North American Martyrs for the special celebration. For this Mass, as well as for the schools titular feast on the Solemnity of the Immaculate Conception, students wear coat and tie as a sign of special dignity for the occasion. Students and faculty were also dismissed after Mass for the long weekend, which includes the Labor Day holiday.
In his homily, Archbishop Aymond spoke about the unique gifts of each student and about the gifts of the Holy Spirit in a student's life. "When we cooperate with the Holy Spirit," the archbishop said, "we learn discipline. We get new insight that it's not just what we're studying that's important, but we see deeper meaning beyond what we study. The guidance of the Holy Spirit is not just about academics. It is the same spirit that comes to you and me and enlightens the heart."
Archbishop Aymond also spoke about the year's spiritual theme at Jesuit, a phrase used constantly by St. Ignatius, "Conquer Yourself." The archbishop spoke of the value of the Holy Spirit in this task, since no one can do it alone. "In order to truly become the people that God has called you to be, in order for us to be the disciples of the Lord Jesus, we have to conquer ourselves and die to some of the things within us so that we can truly live for God and follow the guidance of the Holy Spirit."
The archbishop also included remarks in his homily about leaders in the Church who have been unfaithful in their commitment to God and to others and added to the petitions his prayers for the victims of sexual abuse. The provincial for Jesuits in the Central and Southern Province has also recently released a statement expressing his concern for abuse victims, which can be read here.
At the end of Mass, Jesuit president Fr. Christopher Fronk, S.J., thanked the archbishop for showing support for the work of Jesuit education in the archdiocese and for his leadership of the local Church. He also took the opportunity to remind students of his words in the beginning of the year address about active participation at the communal celebration of the Mass at Jesuit.