The 2018-2019 Jesuit School Year is Now in Session
Friday, August 17 marked the official first day of classes for the 2018-19 school year. A homeroom period, morning assembly, and seven periods of new classes came and went for the 1,372 Blue Jays who comprise this year's student body.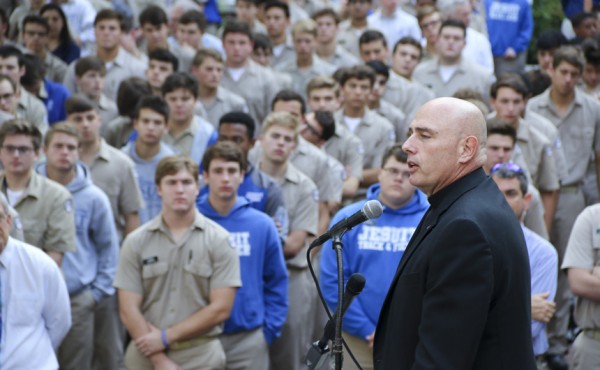 At morning assembly Fr. Christopher Fronk, S.J., used the mission statement to challenge students and faculty alike to be their best selves. He also encouraged the community to a more vibrant witness of faith in the monthly celebration of the Eucharist. "I want to be able to say it clearly and loudly," Fr. Fronk said, "that be it known to all who enter here that Christ is the reason for this school. He is the unseen but ever-present teacher in its classrooms. He is the model for its faculty and the inspiration of its students." Fr. Fronk also praised the dedication of the faculty, who spent three days during the summer making improvements to the curriculum.
View the Video of the Address at Morning Assembly by Jesuit president Fr. Christopher Fronk, S.J.

Just moments before, Jesuit's principal Peter Kernion '90 made reference to the movie Groundhog Day to encourage students to find meaningful ways to get involved and avoid a sense of monotony in their daily routine. "We need to look for ways to use our gifts in a more positive, engaging, and impactful manner day in and day out," Kernion said. "So, I encourage you this school year to make some changes, to get involved a little more, and maybe sign up for a new club…or one of the numerous service opportunities that will come throughout the year."
View the Video of the Address at Morning Assembly by Jesuit principal Peter Kernion '90
Students also enjoyed attending classes in seventeen newly-renovated classrooms. Thirteen of the classroom are located on the 3rd floor, and the other four are part of the 2nd floor wing added to campus in 1953. Two of the four '53 wing rooms have been specially equipped for the arts. The social studies faculty office was also updated in the renovations. These classroom renovations complete the multi-year project of bringing all of the classrooms at Jesuit High School up to the standards of 21st century learning.
Starting the school year on a Friday has its perks, as students are able to ease into the school year, use the weekend as a chance to get all the supplies they need, and come to school on Monday energized to embark on the next phase of their journey at Jesuit.
Save