Parents Find Great Deals at Used Book, Uniform, and Novel Sale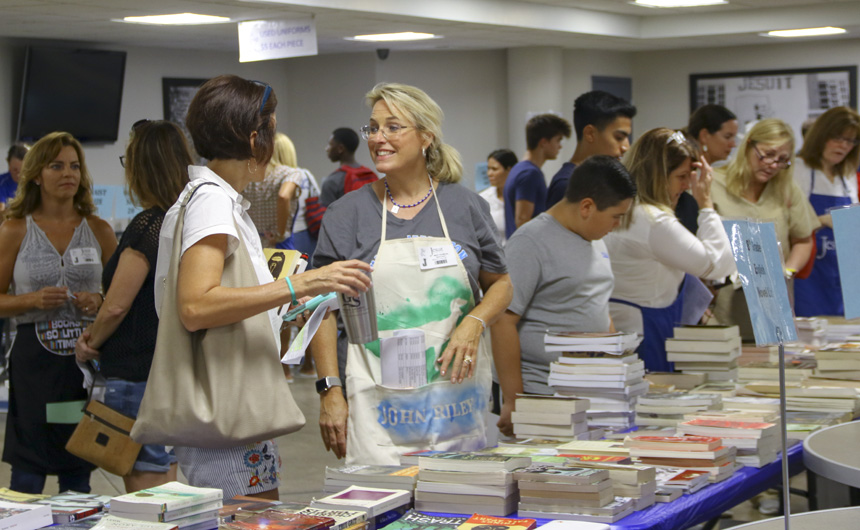 The 2018 Used Book, Used Uniform, and Used Novel Sale drew hundreds of Blue Jays and their parents to Jesuit on Wednesday, August 8. After the positively overwhelming response from last year's event on the third floor, parents eagerly shopped for deals in the annual sale's new location—the Student Commons. Some of the first Blue Jay parents were in line as early as 7 a.m.
Organized each year by parent volunteers, the used book sale affords an opportunity for students and their families to sell their used textbooks and save money on books for next school year. Last year, volunteers revamped the event to include used uniforms and used novels that were were dropped off on Tuesday as donations to Jesuit.
By recycling their sons' textbooks, parents are able to reclaim half the price on books they purchased during the previous year. At the same time, other students buy the books required for their classes at a 50 percent discount. All of the used books, novels, and uniforms are in good to excellent condition.
Jesuit is grateful to parent volunteers, led by Alison James and Christine Zazulak, who made the 2018 sale a smooth and successful process: Cindy Wooderson, Deborah Gillen, Bridget LaForge, Karen Sentilles, Terri Stuckey, Kelly Hamm, Su-Sue Hentze, Mary Armand, Beth Schibler, Mary Lee Hanemann, Emily Frischhertz, Ashley Zito, Jill Stoner, Libby Tittle, Dilicia Obando, Jeannie Redmann, Sharon Barreca, Lori Lorentz-Guillory, Tara Doyle, Tammi Major, Elizabeth Finger, Amy Maniscalco, Dawn Casebonne, Germaine Davillier, Christal White, Marcelle Landry, Andrea Thomas-Reynolds, Donna Lindsey, Tiffany Johnson, and Lauren Eccles.
Pick-Up Dates for Unsold Books
ONLY Thursday, Aug. 9,  9 a.m. – 2 p.m., in the Student Commons
Pick-Up Date for Money
Thursday, Aug. 9,  9 a.m. – 2 p.m., in the Student Commons
Aug. 20 – 24,  during school hours, principal's office (Room 235, Administration Wing)
All money not picked up by Friday, Aug. 24 will become the property of Jesuit.
Resources
Used Book Drop Off and Sale Procedure