Memorial Details Announced for Fr. Nicholas Schiro, S.J.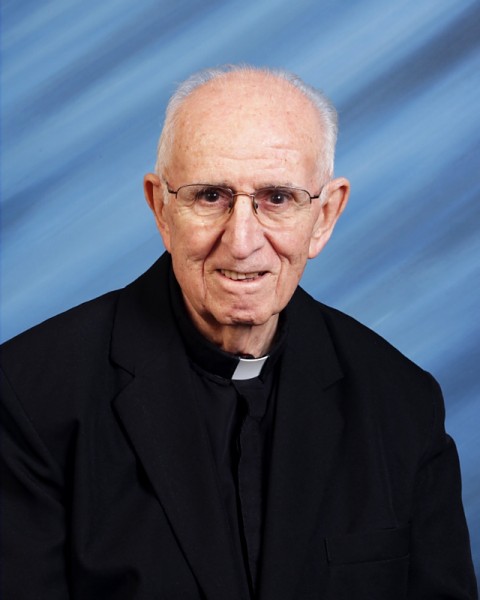 Fr. Nicholas T. Schiro, S.J. '44 died Saturday, Aug. 4, 2018, in Grand Coteau, La. He was 90 years old, a Jesuit for 73 years and a priest for 61 years.
His life will be celebrated in a funeral Mass at 11 a.m. on Saturday, Aug. 18, in the St. Charles College Chapel in Grand Coteau. The visitation will be immediately beforehand in the same chapel, beginning at 10:00 a.m. Burial will be in the Jesuit Cemetery at St. Charles College. The funeral Mass will be celebrated for Fr. Schiro and for another alumnus, faculty member, and Jesuit priest, Fr. Kenneth Buddendorff, S.J. '47, who passed away on Friday, Aug. 3.
A memorial Mass for Fr. Schiro on Jesuit's campus will also be offered at 7 p.m. on Monday, Aug. 20, in the Chapel of the North American Martyrs.
Nicholas T. Schiro was born in New Orleans, on Nov. 17, 1927, to Theodore A. Schiro and Josephine Manale Schiro. As an only child, he is survived only by his brothers in the Society of Jesus.
After graduating from Jesuit, he entered the Society of Jesus on Aug. 14, 1944, at St. Charles College. He was ordained to the priesthood in the St. Joseph Chapel on the campus of Spring Hill College in Mobile, Ala., on June 12, 1957. He pronounced final vows on Aug. 15, 1961, at Sacred Heart Church in Grand Coteau.
Fr. Schiro became a fixture at Jesuit, serving for 40 years. Indeed, his ministry was almost entirely as a theology teacher, also serving at Jesuit College Preparatory in Dallas for 14 years, 1964 to 1978.
He was not only a skillful teacher who was popular with students, but one who became a leader in shaping the theology curriculum through his work with the Jesuit Secondary Educational Association (JSEA). He was a member of the JSEA's Commission on Religious Education (CORE) which produced "Teaching for the Kingdom: Christian Formation in Jesuit Schools" (1987), a monograph offering guidelines for furthering the religious education and formation of students in Jesuit schools.
Fr. Schiro's greatest satisfaction was the prayer class that he developed and taught for years. Those who took the class found that it often made an impression that stayed with them for their entire lives. He also produced a collection of prayers composed by Jesuit students, Through All the Days of Life, which, while not the first of its kind, was very popular. It included his adaptation of the Examination of Conscience which is still used as a way of introducing people to that practice.
Fr. Schiro saw the religious education and spiritual formation of students as the special ministry to which he had been called. He said that he found his students to be a channel of God's grace, and that through them he experienced God's love and support in his vocation. In his classes, in his example and in the way he dealt with them, his students' lives were profoundly affected.
Within the Society of Jesus, he was well-loved as a superior in the Jesuit communities in Dallas and New Orleans and worked to create a home-like environment.
Following First Vows he studied humanities in Grand Coteau. He continued his studies at Spring Hill College in Mobile, Ala., earning a Bachelor of Arts in English and completing his philosophy requirements. He studied theology at St. Mary's College in St. Marys, Kansas, where he earned a licentiate in sacred theology. During summers, he earned a master's degree in religious education at Loyola University Chicago.
We remember with gratitude all that God has done through Fr. Schiro's life of service to God and God's people.
Memorial gifts may be made to the USA Central and Southern Province of the Society of Jesus at 4511 West Pine Blvd., St. Louis, MO 63108 or online at http://jesuitscentralsouthern.org.