Jack Zvonek Scores a Perfect 36 on the ACT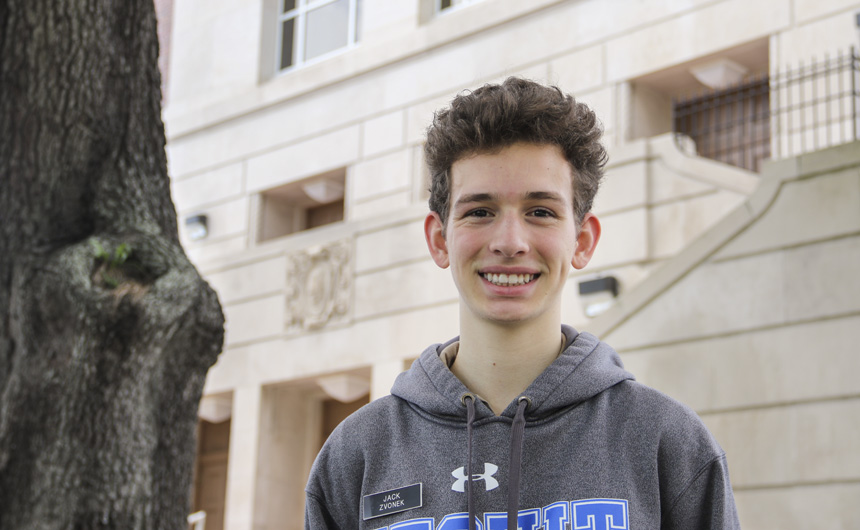 John "Jack" Zvonek Jr., a member of the Class of 2019, earned the highest possible composite score of 36 when he took the ACT® test for the first time this April. Jack, who attended Trinity Episcopal School before moving to Jesuit, is the son of John and Tricia Zvonek.
At Jesuit, Jack is the president of Mu Alpha Theta, and he is a member of the National Honor Society, the Spanish Honor Society, the Model United Nations club, the robotics team, and the biotechnology club. This year, Jack was an overall Division I winner in English IV at the Southeast Louisiana District Literary Rally. He is also an active member of the St. Catherine of Siena Catholic Youth Organization. Jack's summer activities include volunteering at camps for children with spina bifida and Down syndrome and taking courses in areas of study that interest him, including courses on nanomaterials, astronomy, physics, astrobiology, and Model UN.
The ACT consists of tests in English, mathematics, reading and science, each scored on a scale of 1-36. A student's composite score is the average of the four test scores.  On average, less than one-tenth of 1 percent of students who take the ACT earn a top score.  Some students choose to also take the ACT's optional writing test. That test is reported separately and is not included within the ACT composite score. Jack scored an impressive 11 out of 12 on the ACT writing test.
Zvonek is the third member of the Class of 2019 to score a perfect 36 on the ACT, which is in addition to the four students from the Class of 2018 with perfect scores.