Sold-Out Commencement Luncheon Strengthens the Bond of Blue Jay Brotherhood
The 17th annual Commencement Luncheon on Friday, May 4, was a sold-out affair in which 275 Jesuit alumni welcomed the Class of 2018 into the Alumni Association. Held in the Bienville Room at the Mercedes-Benz Superdome, the event brought together alumni from many generations, many of whom were friends or relatives of the graduating seniors.
Click Here for the 2018 Commencement Luncheon Photo Gallery

Watch the Video of the Address by Peter Finney, Jr. '74
Seniors entered the Bienville Room to boisterous applause from alumni as the Jesuit Fight Song filled the room with Blue Jay Spirit. The soon-to-be alumni and the actual alumni sat together at tables of ten to share stories of life at Carrollton and Banks, stories from yesterday and today. After an introduction and prayer by Jesuit president Fr. Christopher Fronk, S.J., Blue Jays heard from alumni director Mat Grau '68 and the president of the alumni association, Ian Blanchard '03.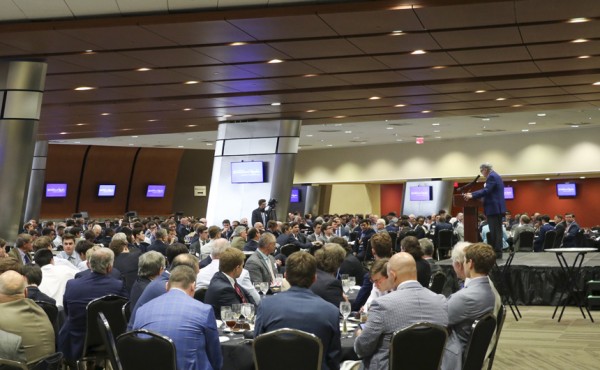 Following the entree, Peter Finney, Jr. '74, who gave this year's featured address, spoke on the significance of being a Blue Jay. Finney has served as executive editor and general manager of the Clarion Herald, the official newspaper of the Archdiocese of New Orleans, since 1993. He is the son of Jesuit's 1971 Alumnus of the Year, the late Peter Finney, Sr. '45, who was the guest speaker at the 2005 Commencement Luncheon.
In 2013, Finney received the St. Francis de Sales Award, the highest individual award bestowed by the Catholic Press Association of the United States and Canada for contributions to Catholic journalism. In 2001, 2009 and 2014, he was named by the Catholic Press Association as the national winner of General Excellence as an Editor, and he finished second in that category in 2013.
He is a former sportswriter for the New York Post and New York Daily News and was selected in 1988 as the recipient of the "Dick Young Award" by B'Nai B'Rith International for "achievement and continuing excellence as one of New York's top sports journalists."
As a student at Jesuit, Finney was a member of the Blue Jay staff, the Christian Life Community (CLC), and the Glee Club.
He and his wife Carolyn have four adult children. Their two sons are Jesuit alumni – Rev. Peter Finney III '02, who was ordained a priest for the Archdiocese of New Orleans on July 10, 2010, and Dr. Jonathan Finney '06, who is a resident in physical medicine and rehabilitation at the University of Pittsburgh Medical Center.
In addition to his two sons and his father, a fourth generation of Finney's can be added the list of Jesuit alumni with his grandfather, John G. Finney, who finished at the school on Baronne St. in 1909.