Lacrosse Snags Three Late-March Wins Before Playoffs
The lacrosse district playoffs start on April 14 and will see Jesuit take on the Tigers of Holy Cross. In preparation for a postseason run, the lacrosse team will work off three big wins that came in late-March. Fittingly, the most recent victory came against the Tigers, their upcoming first-round opponent. The preceding weekend, Jesuit defeated Catholic on the Bears' home turf. And before the Catholic game, the Jays handled the Greenies at Newman.
March 27: Jesuit 20, Holy Cross 5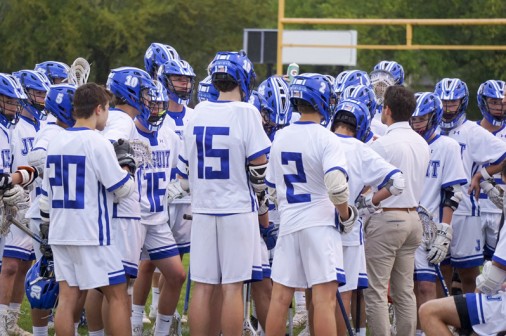 On Tuesday, March 27, Jesuit defeated district foe Holy Cross by a score of 20-5 at Muss Bertolino Stadium. Goals were scored by 12 different players. Players from every grade level and each position, excluding goalie, scored for the Jays.
Junior attackmen Ross Champagne and Elliott Hattier led the effort with three goals each. Senior attackman Collin Haag, senior defender Peyton Queyrouze, freshman attackman Evan Centola, and sophomore midfielder Jude Donnaud each tallied a pair of goals.
Six different players each scored a single goal in the game—freshmen midfielders Jack Unger and Dickson Chamberlain, sophomore midfielder Clark Romig, sophomore long-stick midfielder Luke Powers, junior attackman Zack Charneco, and senior midfielder Aiden Roberts.
The offense displayed nice teamwork in assisting on seven of the goals, led by Champagne with two assists and one each from Charneco, Haag, Hattier, Powers, and Romig.
Jesuit dominated the possessions in winning 40 ground balls compared to 17 for Holy Cross. Romig led the Jays with eight ground balls, followed by Powers with five.
Jesuit's defense was anchored by a trio of goalies. Senior Ryan Hamilton had three  saves in the first half, sophomore Gus Kitchens had a save in the 3rd quarter, and junior Cooper Posecai closed out the game playing the 4th quarter while having a save of his own and allowing no goals that period to the Tigers.
---
NON-DISTRICT: On March 24, Jesuit's varsity squad defeated Catholic High 7-4 at Catholic's stadium in Baton Rouge.
---
March 21: Jesuit 13, Newman 4
On Wednesday, March 21, the varsity lacrosse team defeated district rival Newman by a score of 13-4. The game was played on Newman's campus.
Ten different players scored for Jesuit, led by Zach Charneco, Ross Champagne, and Jude Donnaud who scored two goals each. Scoring single goals were Will Simon, Reed Wakefield, Evan Centola, Michael Schmidt, Jack Unger, Aiden Roberts, and Peyton Queyrouze.
Junior attackman Zach Charneco carried the team with three assists on the night, while junior Ross Champagne and freshmen Jack Unger and Blaise McDaniel each had one assist.
Long-stick midfielder (LSM) Luke Powers led the team with seven ground ball pickups, while attackman Champagne had five. Defender Peyton Queyrouze added four ground balls in the game.
Senior Ryan Hamilton protected the net well with 9 saves in goal.
The Jays were able to successfully clear the ball into their offensive zone on 15 out of 22 attempts, which is a respectable 68%.
---
The lacrosse team's final regular season game was played at Covington's Hunter Stadium against St Paul's School on Wednesday, March 28. St. Paul's defeated the Blue Jays, 10-6.
For Jesuit, the district playoffs start on April 14 against Holy Cross. The Jays will host that game at Muss Bertolino Stadium in Kenner. Time is to be determined (TBA).