Fr. Fronk Shares Message for Holy Week at Morning Assembly
"Christ wants us to live in freedom and the happiness that comes from doing his will.
This is the gift of Easter."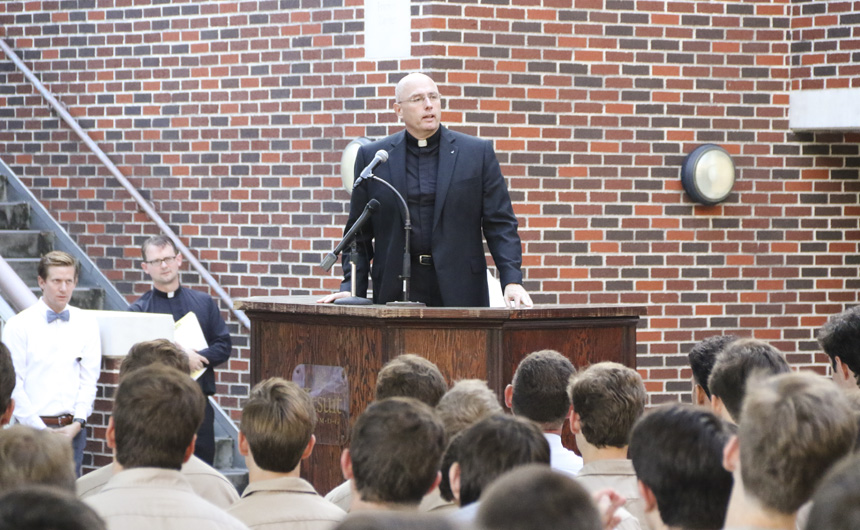 On Monday, March 19, Jesuit president Fr. Christopher Fronk, S.J., shared a message with students and faculty at Morning Assembly. The address, given prior to his mission to Iraq to provide services for the troops during Holy Week, included a challenge to embrace the approaching holy time in the Church's calendar. Below is the full text of the address.
---
As most of you know, I am in the Navy reserves. Periodically I get called up to serve when a priest is needed. I leave this Wednesday for two weeks in Iraq where I will be visiting some of the bases. The troops there do not have a priest available, so I am going over to cover services from Palm Sunday through Easter Sunday.
I tell you this for two reasons: First, to ask for your prayers for safe travels and prayers for all of our forward deployed personnel. They don't get an Easter break.
Second, this gives me an opportunity to talk about the importance of this holy season for all of us. After I received my orders, I started to prepare for the trip. As I prepared I also began to do a fair amount of reflection. In responding to the desire of the troops to practice their faith during Holy Week and the military's willingness to send me to Iraq at considerable expense, I was struck by a contrast – the contrast between, on the one hand, the Marine's desire to have Catholic services while they have so many things other things to focus their attention on while defending our freedom, and, on the other hand, our complacency here about this season. Think about this. We have incredible freedom to travel to the parish of our choice at a variety of times. Yet, how many of us will avoid going at all, or complain about going, or whine about being bored and not getting anything out of it?
If you fall into that category of complacency, I hope you are listening to me now, because I want to talk about a very important concept, the concept of love. You see, the things that we love do not have to fight for our attention. We are captivated by them. They are at the very front of our thoughts. And while you are a student here at Jesuit, you will be reminded on a regular basis of the greatest act of love in the history of our world – Christ's death and resurrection!  That should captivate us! God's love for us should overwhelm us. Christ was willing to suffer and die so that we could be free – free from sin, free from evil, free from the desire to get even, free from arrogance, free from taking advantage of others, free from being cruel to others who are different from us, free from objectifying others.
Christ wants us to live in freedom and the happiness that comes from doing his will. This is the gift of Easter. The season is supposed to draw our attention away from the distractions so we can focus on the most important thing – responding to God in love in the everyday circumstances of life. This is worth our attention.
Having said that, I want to leave you with a challenge – embrace this holy season. Allow it to capture your attention and captivate your thoughts. Grasp the beauty of Holy Week.  Don't let this be just another spring break. Be concerned about where you will be going to Mass on Easter Sunday as opposed to being concerned about where you will be on the beach.
While you are a student at Jesuit, I hope that you wrestle with the tough questions. I hope that you challenge your doubts. I pray that you will be open to the history and tradition of our Church and allow yourselves to see the beauty and peace that is found in faith. I hope that you reflect on those who have gone before us in faith, especially those who have given their lives for it. And I encourage you to practice this faith. It is like everything else, it only grows when you spend time with it.
So back to my challenge – embrace this holy week. Celebrate the risen Christ this Easter. Then take that good news out into the world, especially to those places that most need to hear it and see it in action. That is what it means to be a man of faith and a man for others.
I will be praying for you while I am doing my best to bring the Good News of Jesus Christ to our men and women in the armed services during Holy Week. I will end my words this morning just as I began, by asking for your prayers as well.