2018 Blue Jay Bazaar Schedule of Events Announced!
Join the fun on Saturday, March 17, at Carrollton and Banks!
The main stage will feature the Jesuit Barber Shop Quartet, the Jesuit Jazz Band and many talented alumni and their bands.
Mark the date and don't be late.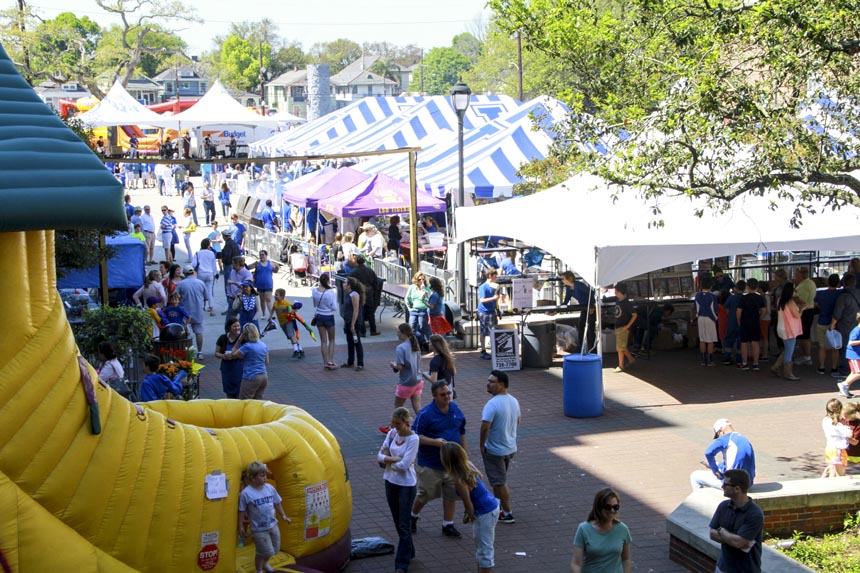 Opening ceremonies begin at 10:45!
The event is free to all!
Schedule of Events:
10:45-11:00 AM
Opening Ceremony
MCJROTC Color Guard and Band
11:00-11:15 AM
Blue Jay Barber Shop Quartet
11:15 AM-12:00 PM
Jesuit Jazz Band
12:00-12:15 PM
Jesuit Cheerleaders and Jayettes at the Main Stage
Senior vs. Faculty Football Game on Will Clark Field
12:15-1:15 PM
The Medics
Featuring Jesuit alumnus Jim Brown '77

1:00 PM
Class Level "Tug-of-War" on Will Clark Field
1:15-1:30 PM
Preview of "Fiddler on the Roof"
Presented by the Philelectic Society, Auditorium
1:30-4:30 PM
The Benchwarmers
Featuring Jesuit alumni Stephen Lundgren '88, Doug Kinler '88, and Oscar Torres '78
3:00-3:15 PM
Preview of "Fiddler on the Roof"
Presented by the Philelectic Society, Auditorium
4:45 PM
Mass
5:30-7:00 PM
GRäDU
Featuring Jesuit alumni as band members: Jim McCormick '86, Sean Mayfield '89, Henry Guste '95, and Todd Adams '99; Chrissy Bordais is also a Blue Jay mother

6:00 PM
Grand Raffle Drawing and Announcement
50/50 Drawing and Announcement