Soccer State Champs Honored Before Baseball Game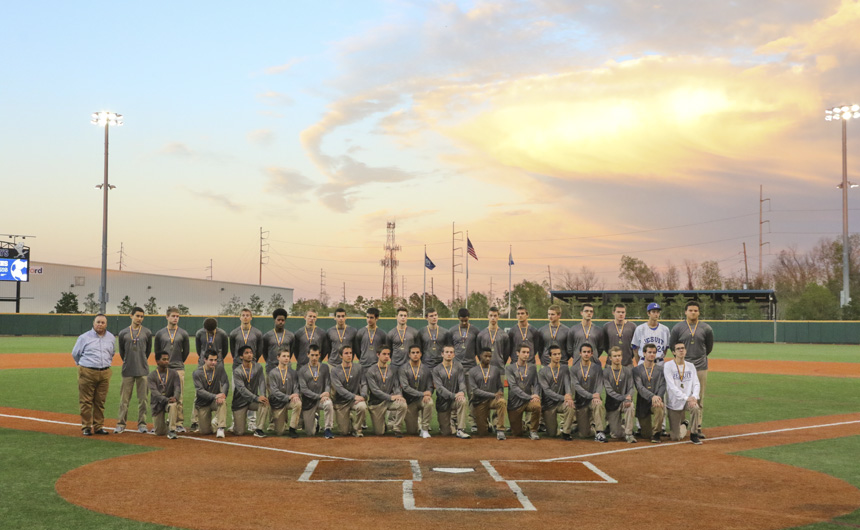 On Tuesday night, the Jesuit soccer team received their state champion plaques and medals for their impressive performance in the state playoffs. Seeded 15th in the state and upsetting multiple teams before toppling nationally-ranked St. Paul's in the finals, the Blue Jays won their first state title since 2013.
The ceremony honoring the team preceded the Jesuit vs. Warren Easton baseball game. Athletic director Dave Moreau chronicled the road that the 2018 soccer team traveled to arrive at the title. A proud group of parents and soccer fans flocked to the stadium to witness the ceremony and show their support. Coach Hubie Collins also addressed the crowds, mentioning how the team knew at the end of last season, there was a big mountain to climb. When it is all said and done, the soccer team will always remember what it feels like to have conquered that mountain.
The baseball team went on to defeat Warren Easton 5-4. Will Hellmers was the starting pitcher for the Jays, and struck out 6 batters. Will Moran came on in relief and struck out and additional 5. Moran also led the offensive charge in the 3rd inning with a 2-RBI inside-the-park homerun. Seth Dardar also knocked in a run in the inning with a single. The baseball team travels to Lake Charles this weekend to play in the Barbe Tournament. Keep up to date with the latest baseball news by following the team on Twitter.