Lacrosse Jays Fight Through February, Prep for District
The Blue Jay lacrosse team opened its regular season with a pair of wins on Feb. 2 and 3 against Airline and Ocean Springs.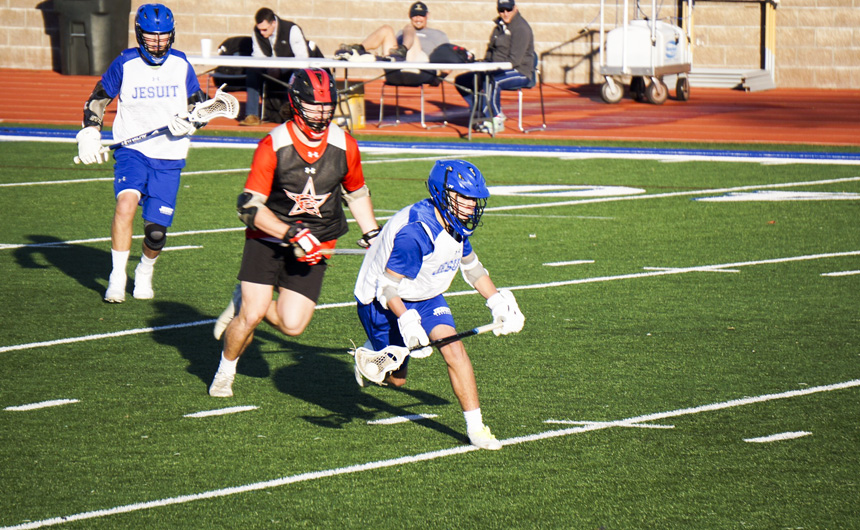 Jesuit 13 – Airline 3
Jesuit beat Airline High from Shreveport by a score of 13-3, the Jays were led by junior attack man Elliott Hattier with five goals. Also scoring goals were Ross Champagne with three, freshman Jack Unger with two, while Michael Schmidt, Max Milano, and Luke Powers each added a single goal. Zack Charneco assisted on two of the goals while Hattier, Unger, Champagne, and Aiden Roberts each had an assist. Unger and James Bradford led the team with seven ground balls each and Champagne added six. Ryan Hamilton had two saves in goal in a game that saw Jesuit take 51 shot attempts and Airline attempted 11.
Jesuit 15 – Ocean Springs 4
On Saturday Feb. 3, Jesuit enjoyed a 15-4 victory over Ocean Springs. This time the leading scorer was senior midfielder Aiden Roberts with four goals. Face-off specialist Clark Romig added 3 goals and Elliott Hattier added 2 goals. Joe Lombardi, Jude Donnaud, and Luke Powers joined Schmidt, Unger, and Charneco goal as well. Schmidt had four assists in the game. Senior Ryan Hamilton had nine saves in goal, and another goalie Cooper Posecai had a save while closing the game out.
---
Following these two opening victories, the Jays continued action for three games in Houston during the weekend of Feb. 16-18 and another game against St. Thomas More on Feb. 23. The team finished with a record of 0-3 in Houston and dropped a highly competitive game to St. Thomas More.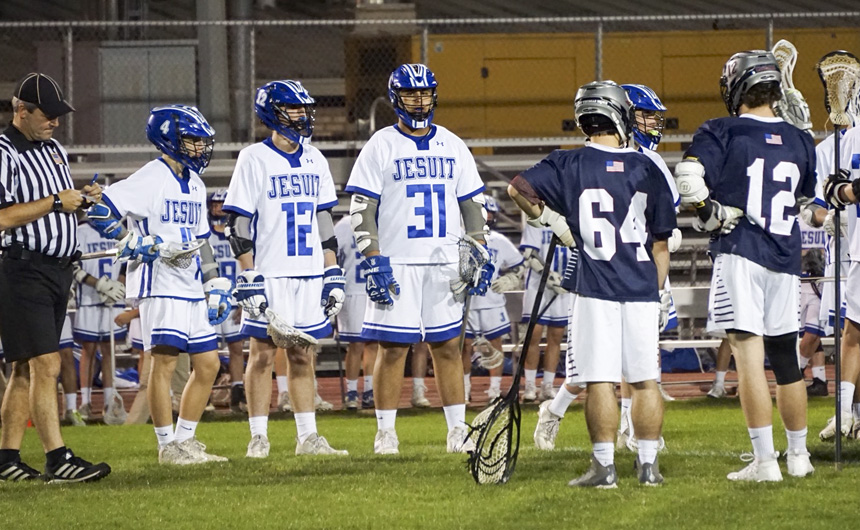 Jesuit 6 – St. Thomas More 8
On Friday, Feb. 23 at Muss Bertolino Stadium, Jesuit's varsity lacrosse team lost a hard-fought match against St. Thomas More (STM) from Lafayette by the score of 6-8. Senior midfielder Aiden Roberts led the squad with three goals scored. Freshman midfielder Jack Unger scored twice, and junior attackman Elliott Hattier added a single goal.
Roberts and sophomore midfielder Clark Romig each had an assist in the game. Midfielder and face-off specialist Romig led the team with five ground ball pickups. Junior defender Mitchell Blount and freshman Unger, also a face-off specialist, scooped up four grand balls each. Led by Romig and Unger, the Jays won 13 of 17 face-offs in the game.
Senior Ryan Hamilton had 12 saves as goaltender, compared to four saves from the Cougar goalies. As a team, Jesuit was able to successfully clear the ball into its offensive end on 10 of 21 attempts, and was only able to score once on six extra-man advantage opportunities. Thirty-seven turnovers by Jesuit hurt the team, while STM had only 19 turnovers. The Blue Jays took a total of 32 shots in the game compared to 30 from STM; however, the Jays were simply not as accurate as the St. Thomas More shooters.
Next opponent is Brother Martin (district). The game will be played at Muss Bertolino Stadium in Kenner, La. on Saturday, March 3, at 7 p.m.
Other important games upcoming in March are as follows:
March 7th – Newman (District)
March 14th – St Paul's
March 27th – Holy Cross (District)