Saturday Playoff Showcase
It is a big weekend for Jesuit Athletics!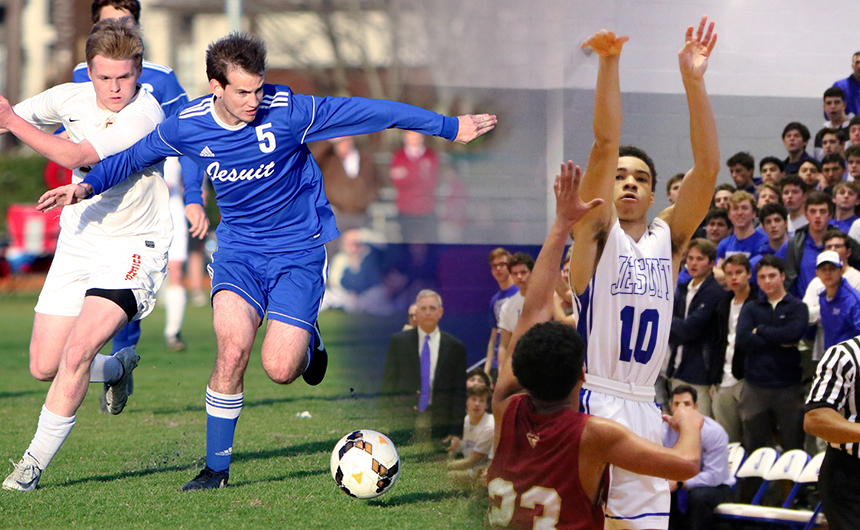 Soccer vs. St. Paul's

LHSAA Soccer State Finals

University of Louisiana Lafayette
Ragin' Cajun Soccer Field

Saturday, February 23
4:30 PM

The soccer team (15th seed) vies for a state title against St. Paul's (1st seed). This is the fifth time in the last eight state finals that the Blue Jays face the Wolves, and this time is sure to be a thriller.
Admission is $10 for adults, students, and children.

Basketball vs. Evangel

LHSAA Basketball Regional Playoff

Jesuit Gymnasium
(The Birdcage)

Saturday, February 23
4:00 PM

On the hardwood, the 5th seed Blue Jay basketball team (22-7) takes on 12th seed Evangel Christian (13-14). The team looks to begin a post-season campaign that will lead to the finals at Burton Coliseum in Lake Charles.
Admission is $7.00 each for adults and children. Faculty and staff id's will be accepted at the gate.
After the basketball game has been completed in the Birdcage, the remainder of the soccer state final will be steamed LIVE on the video screens for fans to watch.
While all of this is going on, the baseball team is getting their season underway in the WGNO Classic. For scores and updates, visit WGNO.com.
Keep up with all the Blue Jay athletics happenings on Twitter: