That 70s Show
The varsity basketball team had posted a score in the 70s only once this season against Helen Cox in the Newman Tournament, but it took them four overtime periods to do it. This weekend, they did it again … twice. And no overtime periods were necessary.
The Jays shot the 3-point ball at an amazing 62% over the course of the two games, knocking down 24 in total. On the other side of the court, the Jesuit defense limited their opposing teams' combined score to roughly half as many points as the Jays were able to tally.
---
Jesuit 75, Rummel 29
Friday, February 2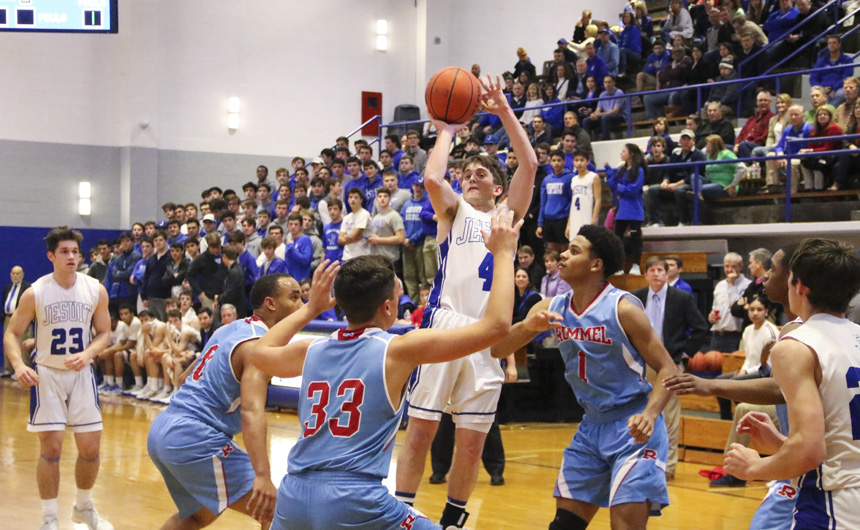 In Friday night's 75-29 rout of Rummel, the team had five players scoring double-digits: Patrick Schwing had 13 points, Noah Varnado and Drew Black had 12, and Zach DeBlieux and Kyle Haupt each added 10. The team stormed out to a 26-2 lead by the end of the 1st Quarter behind the post play of Drew Black and the long range shooting of Will Landrieu and Zack DeBlieux.
View the Jesuit vs Rummel Photo Gallery
Read More…
NOLA.com – Jesuit 75, Rummel 29: Drew Black leads way as Blue Jays dominate
---
Jesuit 76, Brother Martin 50
Saturday, February 3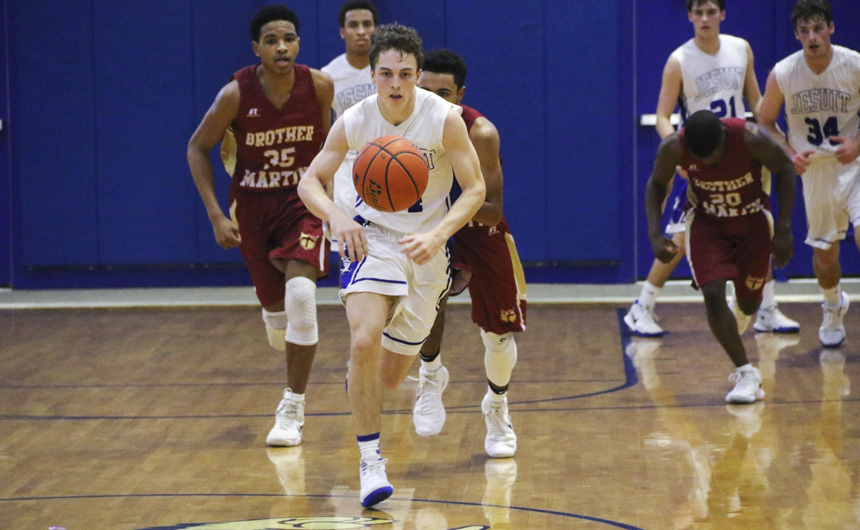 On Saturday, the basketball team defeated Brother Martin 76-50. Will Landrieu led all scorers with 18, Elijah Morgan had 17, and Zach DeBlieux added 12. Deblieux also led the defensive effort that held the Crusaders to 19 first half points. Drew Black pulled down 7 rebounds in the effort.
View the Jesuit vs. Brother Martin Photo Gallery
The Jays continue district play on Tuesday night at 7 PM in the Birdcage against Holy Cross. The team has an 18-6 overall record, now 6-2 in district. Tune in to the live broadcast of the game by NOLA.com.