Alumni Offer Professional Advice at Career Day 2018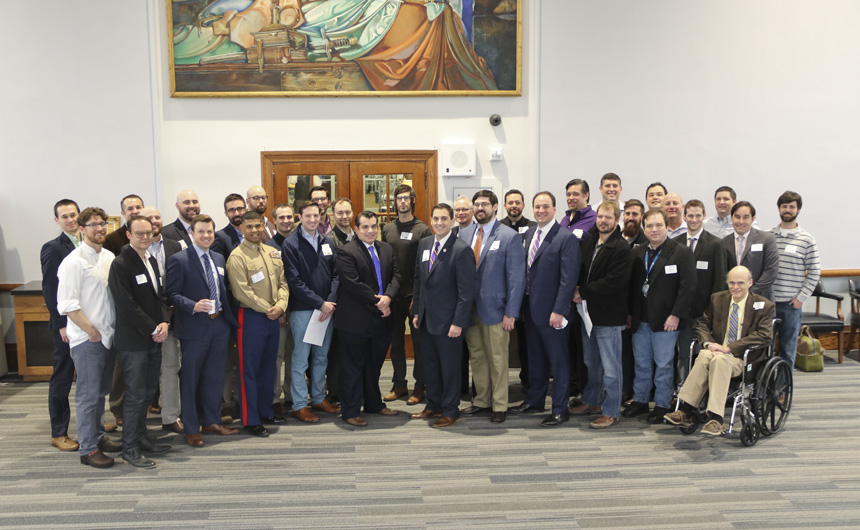 Career Day at Jesuit highlights a special facet of the brotherhood that exists among Blue Jays across the decades – namely, that of guiding younger Jays through the next phases of life. On the morning of Wednesday, Jan. 24, alumni returned to Jesuit to be resources to students by giving them a glimpse into their lives as professionals.
View the 2018 Career Day Gallery
With careers ranging from Accounting to Veterinarian Medicine, a total of 37  alumni gave practical advice to juniors and seniors about 26 different careers. Student chose two professions to learn about in 30-minute presentations given by alumni. During the presentations, students heard about the training and preparation that goes into a given career path, the pace of work on a typical day, and the effects on lifestyle which accompany the profession.
While the upperclassmen were making the rounds through specific careers, 8th, 9th, and 10th graders enjoyed a presentation in the auditorium by chef Brian Landry '94. The co-owner and head chef of both Borgne and QED Hospitality (which operates the restaurants in the Pontchartrain and Thompson Nashville hotels) told his story about choices that led him to where he is today, repeating throughout his address that "the journey is just as important as the end goal."
Watch the Video of Brian Landry's Address to Students
Landry opened his address listing places he has been, celebrities for whom he has prepared food, and milestones he has reached because of culinary arts: "Switzerland, Italy, Canada, Jamaica, two presidents, U2, Pearl Jam, Led Zeppelin, 300 employees, 22 million dollars in sales, and the privilege to cook in one of the greatest food cities in the world … is where food has taken me. But, when I was sitting in your seat, a little bit ago, I would have never picked this as a career path. I wouldn't have even envisioned it as a possibility."
In a nod to calculus teacher Mr. Dave Wright, Landry explained the name of his company: "In Calculus class, whenever we would solve a problem on the board, he would write QED, the Latin for quod erat demonstrandum, which means 'This is the proof. It's been demonstrated.' The name of my company now is QED Hospitality because this is the proof of what it means to be hospitable."
Career Day Speakers
Profession
Speaker 2018
Accounting
Tommy McGinnis'96
Andrew Sullivan '08
Advertising, Marketing
Ward Rice '84
Architecture, Construction Management
Chuck Neyrey '95
Pat Thomas '97
Banking
John Zollinger '85
Business – Contemporary Entrepreneurship
Chad Thilborger '93
Computers – IT, project management, programming, business systems
Evan Hart '95
Computers – Software development
Robert Gaffney '00
Computers – Gaming
Evan Smith '00
Culinary Arts, Restaurant Management
Chad Penedo '97
Alex Fein '97
Dentistry
Stan Cowley '95
Michael Tufton '05
Education
Casey McMann '07
Ben Moscona '94
Engineering – Civil, Mechanical, Electrical
Bob Mora '97
Blake Hosli '04
Engineering – Petroleum & Chemical
Tim Sicard '82
Brandon Hartmann '05
the Film Industry
Chris Serio '01
Finance –  Wealth Management, Financial Advisor
Paul Saltaformaggio '96
Journalism – Broadcast & Print
Wes Muller'02
Chris Drew '74
Law
Graham Ryan '04
Bryan Pfleeger '83
Medicine
Matt Gaudet '97
Andre Mouledoux '97
the Military
Brandon Gregoire '91
Ministry
Fr. John Brown, S.J.
Music
Eric Heigle '02
John-Michael Early '04
Pharmacy
Justin Ritter '02
Physical Therapy
Alex Farge '05
Politics
Walt Leger '96
Sales
Stephen Parrish '97
Sports Administration
Kyle Huber '09
Veterinarian Medicine
Matthew Levy '08
Career Talk to 8th, 9th, & 10th
Brian Landry '94