Senior Patrick Murray Named Chevron Scholar Athlete of the Week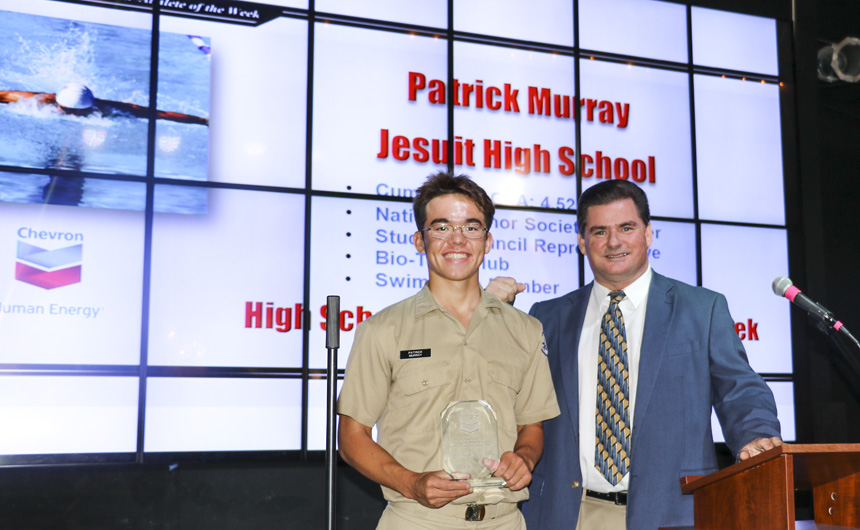 The Greater New Orleans Sports Foundation Quarterback Club luncheon takes place every Tuesday to recognize a male and female high school senior from the Greater New Orleans area. On Tuesday, Sept. 19, senior Patrick Murray was honored alongside Caroline Standley of Archbishop Hannan as the Chevron Scholar Athletes of the week.
A member of the Blue Jay swim team, Murray maintains a cumulative GPA of 4.52 and scored a 1580 on the SAT. He is a National Honor Society member and just recently became one of Jesuit's 35 National Merit Semifinalists in the Class of 2018. Murray also serves on the student council and volunteers for Habitat for Humanity. He will be recognized on the field during the 2017 R+L Carriers New Orleans Bowl in the Mercedes-Benz Superdome on December 16th. All winners will be invited to a Pelicans basketball game where there will be a drawing for one male and one female to receive a $5,000 scholarship.
Principal Peter Kernion '90, head swimming coach Mr. Bret Hanemann '85, and Murray's parents, Kenneth and Laura, attended the luncheon in support. Jesuit High School congratulates Patrick Murray for being chosen as the scholar athlete of the week.