National Honor Society Inducts New Members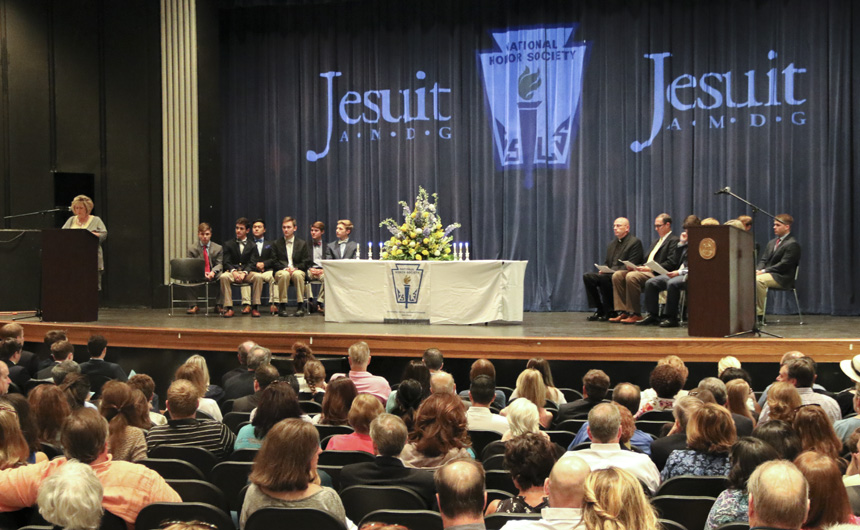 The National Honor Society (NHS) honored 114 Blue Jays as the newest members of the prestigious academic organization on Thursday, Sept. 14, at its annual induction ceremony. The ceremony took place in the Auditorium where 9 seniors and 105 juniors were formally inducted into the St. Aloysius Gonzaga Chapter of the NHS. The evening began with a prayer and the presentation of the colors lead by the MCJROTC Color Guard. Each newly-initiated member received a certificate given by Jesuit President Fr. Christopher Fronk, S.J., and Principal Peter Kernion '90.
The National Honor Society, founded in 1921, is the nation's premier organization established to recognize outstanding students. NHS activities include providing a tutoring program to Jesuit students before school and during lunch on a daily basis. In addition, members volunteer at Open House, Mini-Schedule night, College Fair Night, the Thanksgiving Drive, annual Blood Drives, the Blue Jay Bazaar, the ALS Association's Walk Against ALS and with other various community organizations. The Jesuit chapter of the National Honor Society is now 225 members strong.
Fr. Fronk included in his comments some words about honor: "Honor reminds us to believe that the good things in life are really good – commitment, self-discipline, loving our brothers and sisters in service, leading others in pursuit of truth and justice, all these point to the goodness of the world inscribed into the very fabric of creation by God. When we see these things in others and in ourselves, we should praise them."
Chapter president and senior John Thomas Holmes congratulated the new members for their commitment to the organization's mission and purpose and lead the inductees in the NHS pledge.
Following the ceremony, a reception was held in the Student Commons for the chapter's newest honorees and their families. The co-moderators of Jesuit's NHS chapter are Ms. Amy Tassin and Ms. Pamela Catalano.