Town Hall Meeting on Thursday, Sept. 7 – Mandatory for New Parents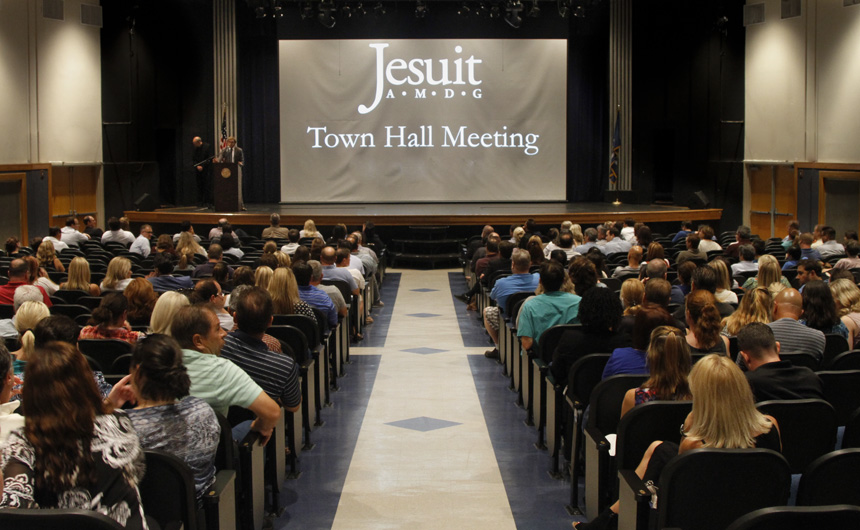 All parents of new students are required to attend a Town Hall Meeting on Thursday, Sept. 7, at 7 p.m. in the Jesuit auditorium. Important and helpful information will be provided on the physical and psychological maturing process of high school-aged youth.
Although the meeting is mandatory for new parents, all Jesuit parents are strongly encouraged to attend.
The presentation will focus on the role of parents in helping their sons make healthy choices, especially with regard to avoiding alcohol and drugs. The September Town Hall Meeting will be presented by Dr. Granville Morse. A graduate from the Class of 1989, Dr. Morse has served as an Emergency Medicine physician at East Jefferson General Hospital, Lakeview Regional Medical Center, and Thibodeaux Regional Medical Center. Dr. Morse currently serves as the Deputy Coroner of Jefferson Parish and will share his professional experience regarding adolescent development and decision making.
Held twice per year, Jesuit's Town Hall meetings focus on topics affecting youth and their parents. These meetings are open to all parents and attendance is strongly encouraged. The meetings reflect timely topics affecting youth, and therefore change each year.
If you have any questions, please contact Jesuit's coordinator of student assessment and development Donald Songy at songy@jesuitnola.org or (504) 483-3828.