New Parents Acclimated at President's Breakfasts and Orientation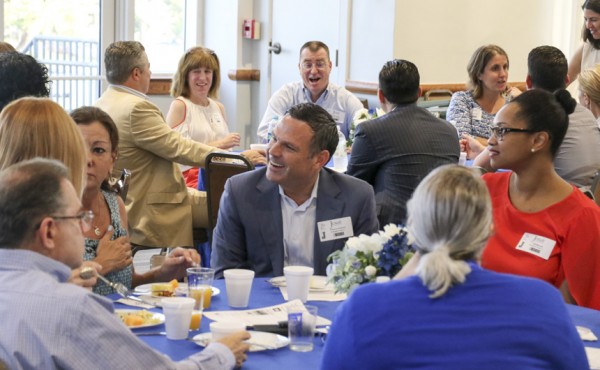 New parents were introduced to Jesuit High School this week through two welcoming events — the series of Breakfasts with the President and New Parent Orientation. The breakfast receptions took place in St. Ignatius Hall on Tuesday, Aug. 22 – Thursday, Aug. 24, while orientation was held on the evening of Wednesday, August 23.
View the Photo Gallery of the Breakfasts with the President
View the Photo Gallery of the New Parents' Orientation
New parents first got a taste of life at Jesuit at the annual Breakfasts with the President. In addition to enjoying a delicious breakfast spread, parents heard presentations from Jesuit president Fr. Christopher Fronk, S.J., Parents' Annual Giving drive chairman Rene Alvarez '83, information technology director Mrs. Sharon Hewlett, pre-freshmen counselor Mr. Andrew Schiro, and communications director Mr. Jeremy Reuther '01. The morning events were facilitated by Mr. Tom Bagwill, Jesuit's director of institutional advancement.
The theme of the events was involvement and engagement. "Thank you for choosing Jesuit," said an appreciative Fr. Fronk, who invited parents to get involved and to encourage their sons to do the same. Fr. Fronk suggested that Jesuit's Celebration Gala & Auction and the Blue Jay Bazaar are great ways to connect with the larger school community. Fronk ensured parents that safety and affordability are two of his main priorities. "Though I wear a white collar, I will always be blue collar at heart."
Alvarez, the Parents' Giving Drive leader, told parents how Jesuit changed his life and how the school's commitment to affordability and socio-economic diversity will change the lives of their sons. Mr. Reuther guided the parents through the school's website jesuitnola.org, showing them how to quickly navigate to links, calendars, and event information. Mrs. Hewlett gave a tutorial of Canvas, the school's online platform that is accessed through Jesuit's website and allows students and parents to track homework assignments, quiz and test dates, and academic progress. Mr. Schiro told parents that he will be meeting with their sons at least once a quarter and more often for those who need it or request extra attention. He relayed important tips for navigating high school, informed parents that their sons should spend about two hours nightly doing homework, and encouraged them to have their sons turn off cell phones when studying. Mr. Schiro also told parents about 8th grade gym night, the pre-freshmen retreat, and the summer trip that many 8th graders will take to San Antonio.
In the auditorium on Wednesday night, guidance director Mrs. Mary Favalora reiterated Mr. Schiro's secrets to success, driving home the importance of balancing academics with opportunities outside of the classroom, including athletics, clubs, and volunteer activities. Several other administrators, staff, and volunteers addressed parents at the New Parent Orientation and Mini-Schedule. Speakers gave parents an idea of what to expect and how to get the most out of their sons' first year as a Blue Jay.
Following the presentation, parents had the opportunity to spend five minutes in a "mini-schedule" of their sons' classes to meet teachers and learn about course work for the upcoming year. In the commons for a post-orientation reception, parent and alumni volunteers also spoke about how to get involved and support Jesuit through the Parents' Giving Drive, Celebration, and the Blue Jay Bazaar.
The newest members of the school community became acclimated this week at the Breakfasts with the President, and they toured Jesuit High School through the lens of their sons at the insightful New Parents' Orientation.