And They're Off… The 2017-2018 School Year is Under Way
The 2017-18 school year officially began on Friday, August 18. A homeroom period, morning assembly, and seven periods of new classes came and went for the 1,365 Blue Jays who comprise this year's student body.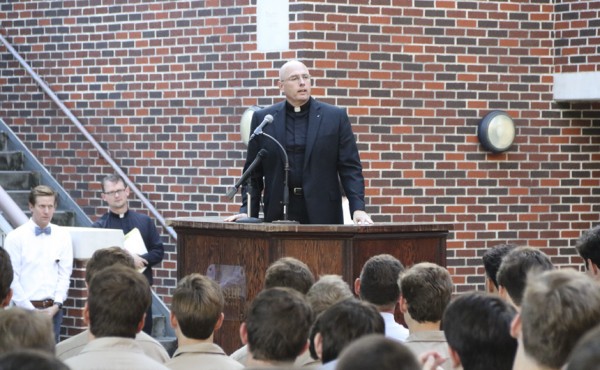 Fr. Christopher Fronk, S.J., officially begins his first full year as the president of Jesuit High School. At morning assembly he referenced the First Principle and Foundation, the cornerstone of The Spiritual Exercises of St. Ignatius Loyola, to remind students of the purpose of being at Jesuit. "What we're about here is saving souls – our own souls and the souls of those around us," he told the students and faculty.  He also spoke of the incredible blessing it is to start a new school year and take advantage of the opportunity to influence others for the good.
View the Video of the Address at Morning Assembly by Jesuit president Fr. Christopher Fronk, S.J.

Just moments before, Jesuit's principal Peter Kernion '90 had similar words of encouragement about the opportunities of a new year. "I urge all of you to look at this school year as a fresh start, a new beginning. It is a chance for each of us to make the decision to work harder this school year, makes some changes for the better, and to grow in several different areas — academically, spiritually,  socially, and in our commitment to service."
View the Video of the Address at Morning Assembly by Jesuit principal Peter Kernion '90
Students had the opportunity to put into practice some of the new security measures put in place to ensure the safety of the entire Jesuit community while on campus. The new drop-off and pick-up procedures also ran smoothly for the students coming to and leaving campus via Solomon St.
Starting the school year on a Friday has its perks, as students are able to ease into the school year, use the weekend as a chance to get all the supplies they need, and come to school on Monday energized to embark on the next phase of their journey at Jesuit.
Save