Student Leaders Collaborate at Borgia Leadership Retreat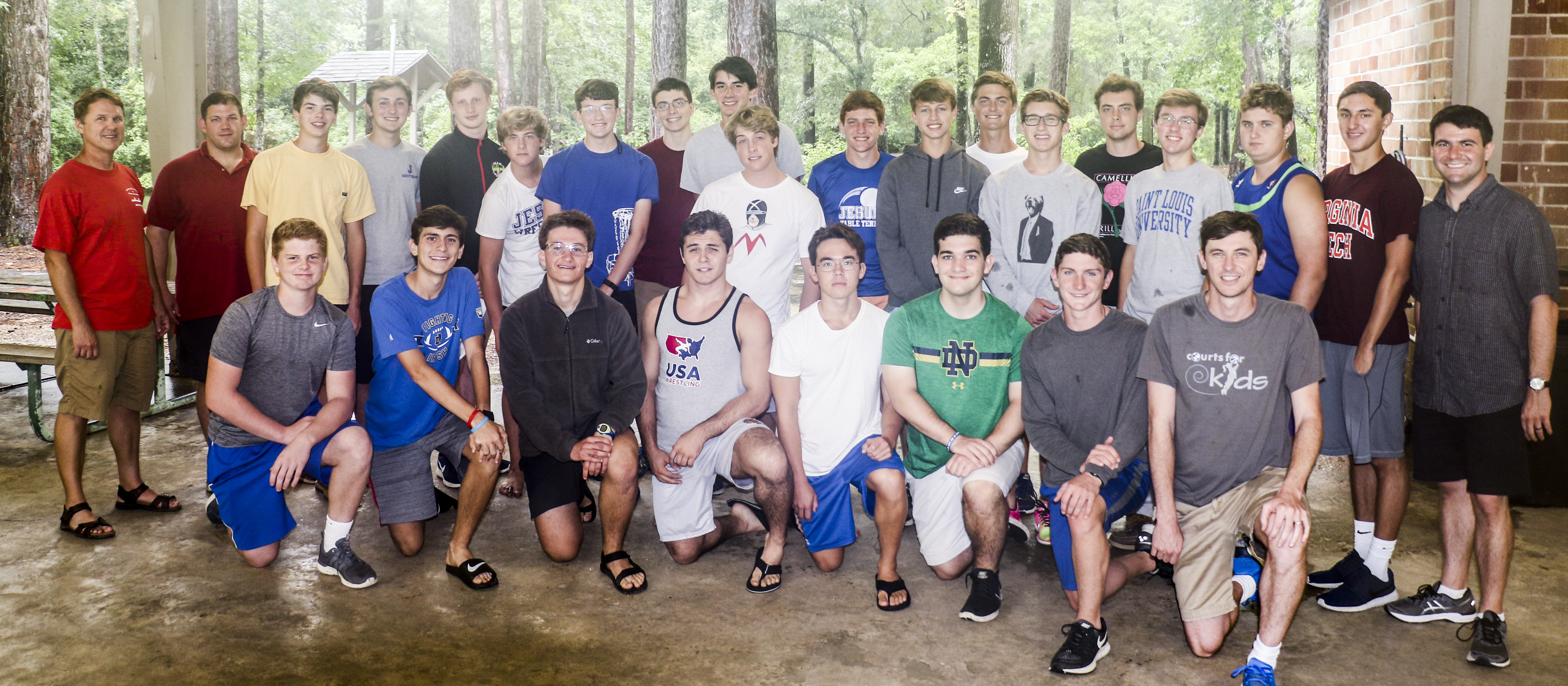 At Jesuit, there is a firm conviction that leaders are trained, not born.
With that resolution in mind, students serving in leadership roles for the 2017-2018 school year traveled across the lake to spend three days developing qualities of leadership. The St. Francis Borgia leadership retreat, held August 10-12, brought students together at Camp Abbey to prepare them for their upcoming responsibilities and promote collaboration among the various aspects of student life.
View the Photo Gallery of the St. Francis Borgia Leadership Retreat
The heart of the leadership program for the fourth annual retreat was the "Leadership Challenge," which allowed student leaders to become familiar various principles of leadership in practical situations. The St. Francis Borgia Leadership Institute was started back in 2014 by student activities director Matt Orillion '98. It was formed to identify students interested in becoming leaders and to prepare them for future leadership roles. The program seeks to integrate the role of service, school culture, and spiritual life of the students in formation.
On Friday afternoon in Session 6, Mr. Orillion presented the importance of "encouraging the heart," the leadership practice that connects students with one another. He explained the importance of morning assembly and other school gatherings to the student leaders, urging, "This is the time to talk about successful events, and it is a real opportunity to celebrate classmates' achievements. From this, a community is formed. Friendships are formed…and deepened."
Guided by the fact that leadership excludes no one, the invitation to participate in the retreat is extended to every student who has the desire to cultivate the virtue of humility and to strive after great things.
St. Francis Borgia is a fitting model for leadership in humility. He was born to one of the great families of Europe, expected to rule, but a series of events—including the death of his beloved wife—made Borgia rethink his priorities. He gave up public life, his possessions, and joined the little-known Society of Jesus.
Religious life proved to be the right choice. He spent time in seclusion and prayer, but his administrative talents also made him a natural for other tasks. He was the third superior general of the Society of Jesus, serving roughly ten years St. Ignatius's death. Francis Borgia is often regarded as "the second founder of the Jesuits."
With Borgia as a guide, the goal of the retreat was to reflect on the role of the student leader at Jesuit and to plan activities for the major student organizations on campus. The retreat focused on two key virtues of leadership: magnanimity and humility; as well as the four cardinal virtues of prudence, justice, fortitude, and temperance.
Before the students boarded the bus to travel to Grand Coteau for Vow Day, they set goals for the year, which will be revisited throughout the coming months.