Blue Jay Fishing Rodeo Goes Big for 25th Anniversary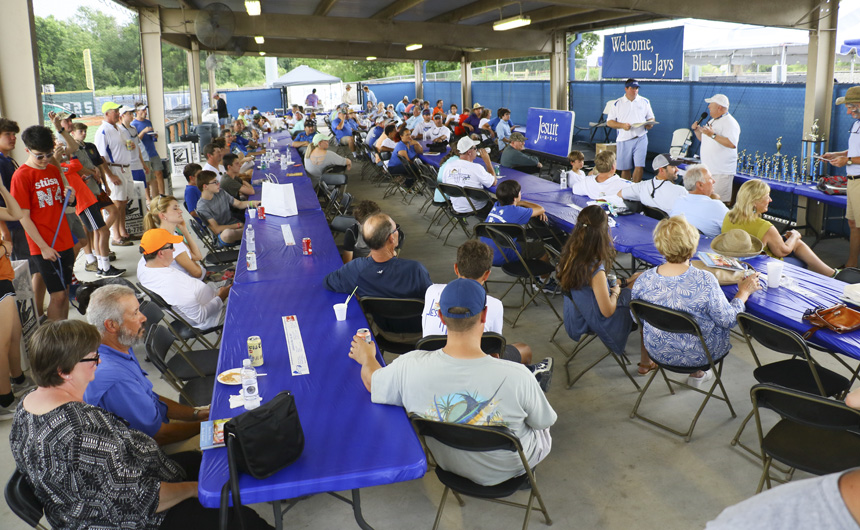 For the 25th Anniversary of the annual Blue Jay Fishing Rodeo, a variety of demonstrations and activities made the day more than just a rodeo. It was a true Blue Jay family event.
View the 2017 Blue Jay Fishing Rodeo Photo Gallery
Watch the 25th Annual Blue Jay Fishing Rodeo Video
Perhaps the folks most impressed with the new additions were young children, who could get their face painted and carry a balloon animal on their way to the snowball stand for a frozen treat. It wasn't just the kids, though, who benefited from this years festivities. The featured award for 2017 – the Founders Award – honored those people without whom the fishing rodeo would never have gotten off the ground 25 years ago.
This year's cooking demonstration featured the winners of the Food Network's "Clash of the Grannies," Harriet Robin and Anne Leonard, better known as the NOLA Grannies. The pair from the New Orleans School of Cooking whipped up a quick and delicious version of the New Orleans classic shrimp and grits. They also remained on hand to sell and sign their recently release cookbook, "Across the Table."
The 25th Anniversary commemorative collared shirt was also a smash hit. Attendees had the option of selecting the dry wick T-shirt with the rodeo logo or opting up to the collared shirt at registration.
Other recent additions from the recent past have gained traction to become emerging fishing rodeo traditions. The Ray Coates '44 Mullet Toss Contest was back for the third year, and the "Father & Daughter" category for the second.
With all the fun going on, one just might forget that the day is all about fishing! Scales opened promptly at 2:00 PM, and some 200 anglers came from waters all over south Louisiana to compete for a trophy. The weigh-in festivities were held under Blue & White Big Top adjacent to the Wally Pontiff, Jr. Pavilion at John Ryan Stadium. Fried shrimp and fish from Koz's Restaurant were also available under the pavilion.
Assisting chairman Mike McMahon '85 were committee members Art Brewster '87 (door prizes/shirt design); Tom and Ben Bagwill '12 (set-up/tear down); Larry Canada, Michael Heier '05, and Chris Mills '80 (weighmasters); Carol Besselman and Amy McMahon (registration); Br. Billy Dardis, S.J. '58  and Ryan Gootee '91 (awards); Andy Fuller '96 (trophies); Jim Hotard '81 (mullet toss);  Gary Discon '75, Rookie Leopold '61, Mat Grau '68, and Jude Trahant '80 (prizes/awards); D.J. Galiano '07 (logistics/music); Jeremy Reuther (registration/promotion); Angelle & Ernest Pierre (clean-up crew); and Floyd and Peggy Guidry (stadium operations).
2017 JESUIT FISHING RODEO RESULTS
Division 1 (19 and older)
| | | | |
| --- | --- | --- | --- |
| Category | 1st | 2nd | 3rd |
| Bass | Andrew Bruzdzinski 3.90 | Jamie Bonck 1.05 | Tony Cyprus, Jr. 1.00 |
| Flounder | No Entries | | |
| Black Drum | Msgr. Christopher Nalty 10.15 | Michael Veters 9.80 | Zack Robert 8.05 |
| Sheepshead | Melissa Griffin 7.55 | Charles Schibler 6.85 | Michael McMahon 6.25 |
| Speckled Trout | Ike Ryan 2.50 | Fred Debram 2.45 | Lenny Labiche 2.40 |
| Redfish (16″-27″) | Lenny Labiche 8.60 | Jamie Bonck 7.75 | Richard Donnes 7.75 |
| Red Snapper | Kyle Dimarco 15.90 | Chris Owen 15.60 | Zack Robert 13.30 |
Division 2 (18 and under)
| | | | |
| --- | --- | --- | --- |
| Category | 1st | 2nd | 3rd |
| Bass | Colin Bruzdzinski 2.75 | Matt Lacour 0.60 | Nicholas Lacour 0.45 |
| Flounder | No Entries | | |
| Black Drum | Hunter Rousselle 7.90 | William Simon 7.25 | |
| Sheepshead | John Discon 7.25 | Connor Discon 5.75 | John Discon 5.45 |
| Speckled Trout | John Discon 3.15 | Connor Discon 3.05 | John Discon 2.45 |
| Redfish | Genesis Prosper 8.65 | Connor Discon 7.60 | Peyton Cox 6.65 |
| Red Snapper | Patrick Spiers 18.60 | Parker Edwards 16.90 | Matt McMahon 14.60 |
Division 3  (All)
| | |
| --- | --- |
| Category | 1st |
| 5-Trout Stringer | Team Miranda 14.40 |
| Biggest Fish | Msgr. Christopher Nalty 30.60 |
| Father & Daughter | Melissa & Carl Griffin |