Old Favorites are New Again at the 2017 Blue Jay Bazaar
The Blue Jay Bazaar is well-known for its food, fun, and entertainment, and when thousands of Jesuit families head to Jesuit's campus on Saturday, March 25, they'll be met by some stand-by favorites with a fresh twist. Check out the full schedule here, as well as some returning Bazaar staples below. See you at Carrollton and Banks!
Bazaar Favorites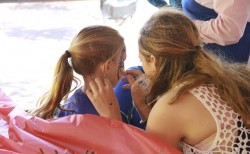 Kiddie Korral: From face painting, kid-friendly inflatables, and pictures with Jayson, to Plinko and Flip-a-Frog games, the expanded Kiddie Korral will keep the future Blue Jays and Jayettes occupied! A special kind of "toss" game has also been added this year, and it's sure to be a hit!
Inflatables: This year's new inflatables — literally — can't be missed! See how high you can "stick" on the Velcro Wall in Traditions Courtyard. On Will Clark Field, kids can play a game of Hungry Hippos or jump on the Big Baller. There will be a Zorb Ball for racing friends down the track, or — if you'd rather knock them down — try out the Wrecking Ball. And a simple game of soccer turns into even greater fun when the ball is a little bigger. The ever-popular Rock Wall will be out on the field, too!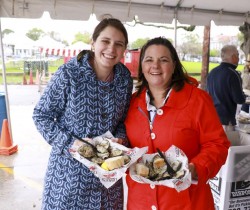 Eats and Drinks: The Bazaar features every kind of food attendees could want… and keeps adding more. From Drago's charbroiled oysters, fried seafood, and pulled pork sandwiches, to hamburgers, hot dogs, chicken tenders, and po-boys, you'll have a hard time deciding between that and the jambalaya, chicken wings, and chicken Caesar salad. Don't miss Muriel's crawfish and goat cheese crepes or Kim Anh's Noodle House egg rolls — it all goes fast!
If attendees work up a sweat playing on the inflatables in Will Clark Field, they can stop by the Cane's tent for some ice-cold lemonade or tea! Soft drinks, water, and several adult beverage options will be available in the Courtyard.
To top it all off, the Bazaar features sno-balls, ice cream, and cotton candy. Visit the Sweet Shoppe in the Blue Jay cafeteria for even more treats.
All-Day Entertainment: While some of the Bazaar's favorite bands are back to play on Jesuit's brand-new stage, you can also head to the auditorium to check out previews for the Philelectic Society's Les Misérables. The group's production of the timeless classic runs the weekends of March 30 – April 1 and April 7 and 8, but you won't want to miss the sneak peeks!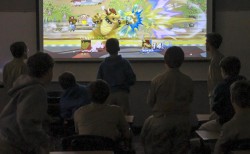 Video Games Tournament: Back by popular demand, Jesuit's very own Video Games Club is hosting its 2nd Annual Super Smash Brothers Tournament in the Commons. Senior Julian Mahfouz will begin sign ups at 2:00 p.m. with games starting at 2:30 p.m. Prizes for 1st place in each of the two games will be awarded!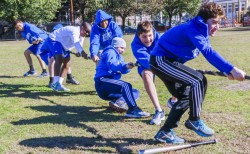 Tug-of-War: Don't miss the MCJROTC-sponsored Homeroom Tug-of-War Contest during the Bazaar. Homerooms have been entering 10-man teams for the competition which begins at noon on Will Clark Field and continues until one team in each grade level stands triumphant over its vanquished foes. Come cheer on the Blue Jays as they compete for bragging rights and a t-shirt!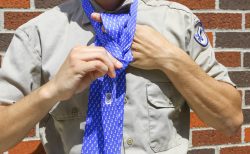 Blue Jay Gear: Check out the Blue Jay Boutique in the cafeteria or the Blue Jay Shop for all things Jesuit. One of the hot new items for sale at the Bazaar are the newly-designed NOLA Couture neck ties, bow ties, and pocket squares. Whether you're a new, current, or past Blue Jay, these are two places you have to visit!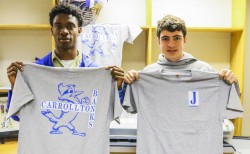 Bazaar T-shirts: When you wear this shirt, everyone will know where you're going — Carrollton and Banks!  The 2017 t-shirts are being sold every day this week during lunch in the Commons or in the Volunteer Office (Room 126) for $10. They will also be sold at the Bazaar in the T-shirt Booth. Get one while they last!
Volunteer Spots Still Available!
You can never have enough help, and parents and alumni are needed to staff Bazaar booths. No experience necessary! Volunteering takes only a few hours, and it's a fun way to meet new parents or connect with classmates and friends. Sign up to volunteer here.