Blue Jays Honor Jesuit's Patroness at Mass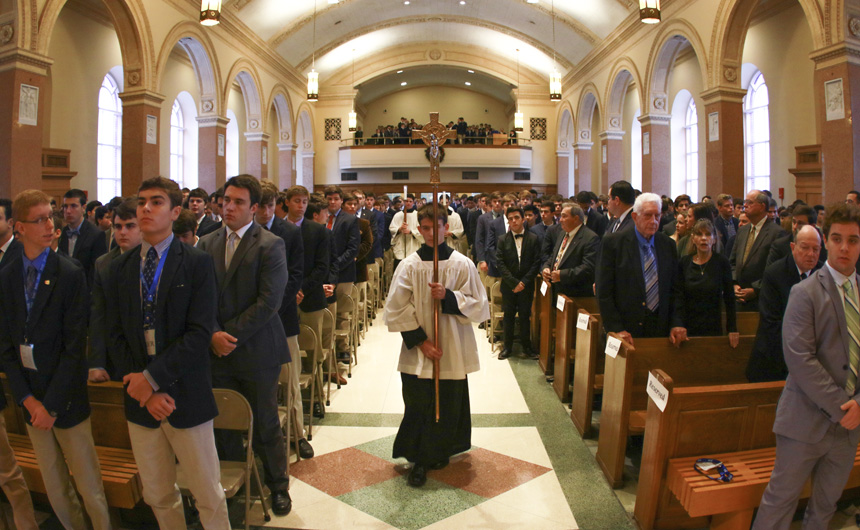 On Thursday, Dec. 8, students, faculty, and staff gathered for Mass in the Chapel of the North American Martyrs to celebrate the Solemnity of the Immaculate Conception in honor of the Blessed Virgin Mary, the school's patroness. Students dressed in coat and tie to celebrate the occasion.
Mass was celebrated by Fr. Anthony McGinn, S.J. Concelebrating  priests from Jesuit's staff were Fr. Kevin Dyer, S.J. (chaplain), Fr. Billy Huete, S.J. (theology), and Fr. Donald Saunders, S.J. (theology). Visiting priest who also concelebrated were Fr. Randy Gibbens, S.J. '95, the vocations promoter for the province, and Fr. James F. Goeke, S.J., who is the novice director serving in Grand Coteau. Fr. Goeke also brought eight first-year novices who are visiting New Orleans fresh off their 30-day retreat of The Spiritual Exercises.
The Mass also included special guests, visiting Jesuit to support three new inductees to the Hall of Honors: Br. William J. Dardis, S.J. '58, Mr. Paul C. Frederick, and Mr. Frank J. Misuraca, Sr.
In his homily, Fr. McGinn called for attendees to remember the virtues of patience and diligence that all mothers and fathers exemplify, especially considering these virtues in the life of Mary as the mother of Jesus. He also challenged those present to exercise these virtues in balance, pushing themselves where appropriate and yet allowing themselves time to develop into the people God has created them to be.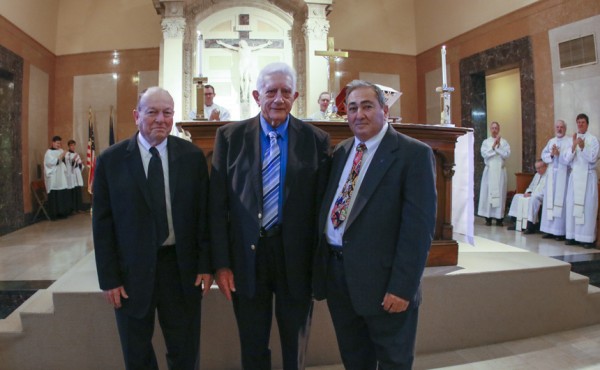 After communion, Fr. McGinn returned to the pulpit to recognize the three inductees to the Hall of Honors. "Jesuit's great strength comes from many developments that have taken place over the years since it's founding on this day in 1847, while still being true to the core values that remain," began McGinn. "In its recent past (and by 'recent,' I mean the last 60 years), Br. Dardis, Paul Frederick, and Frank Misuraca have vitally important to that development, and I thank them for their tremendous contribution to Jesuit High School."
Br. Dardis then spoke a few words about his gratitude for the special recognition and his life as a Jesuit brother, most especially for all the young men who have come through Jesuit. He said, "they have been a great gift to me from Almighty God."
Next, Paul Frederick spoke of the great joy of his last three years at Jesuit, having the opportunity to visit the classrooms and write reviews for every teacher twice each year. "Like Thomas," he said "who had to see the resurrected Christ in to believe, many students are not convinced of the great change that takes place from the time they enter Jesuit until they leave to college. My experience in seeing the learning taking place over these years has taught me, without a doubt, that this change is real."
Immediately after Mass, the inductees, their families, and friends proceeded to the Hall of Honors for the unveiling of the dedication and then to a reception in St. Ignatius Hall.
When the Society of Jesus (the Jesuits) established a new high school in New Orleans on Dec. 8, 1847, they placed it under the special protection of our Blessed Mother. The Feast of the Immaculate Conception celebrates Mary's conception free of original sin. During Advent, may she who was conceived without sin continue to guide all members of the Blue Jay family into that life of Christ's grace which bring joy to the hearts of all.
Save