Celebration At Mahalia Jackson Theater Is a Smashing Success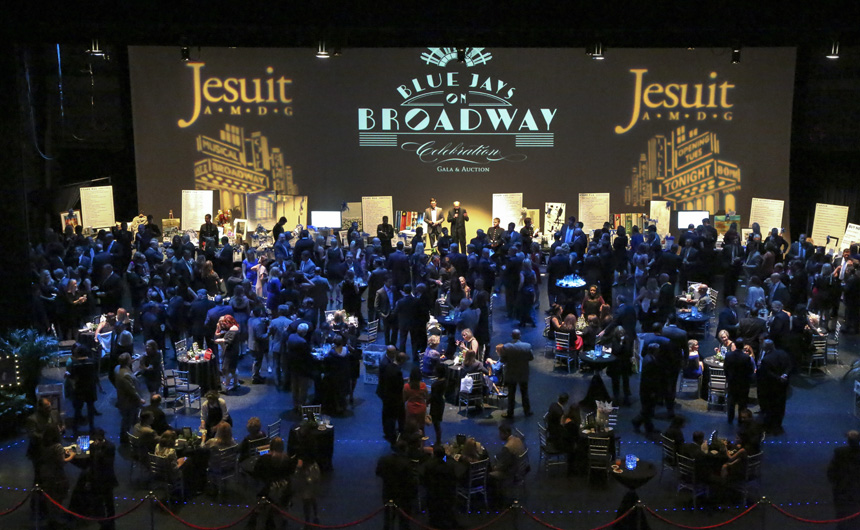 View the Celebration Auction & Gala Photo Gallery
For one magical night, all of Jesuit's world was, indeed, a stage. Or at least on one.
Jesuit's Celebration Auction & Gala curtain opened on Saturday, Oct. 29, on the boards of Mahalia Jackson Theater. More than 500 people, a large majority of them patrons, showcased their support under the lights of the theme "Blue Jays on Broadway." Patrons appreciated the onstage access.
This year's event featured the introduction of on and off-site mobile bidding, two performances from the Blue Jay Jazz Band, live painting by parent artist Keith Eccles, scrumptious food from many of the area's finer restaurants, complimentary parking, and live and silent auctions. Featured auction items included deluxe accommodations in Napa Valley, California donated by Advantage Capital and a New York City trip that included dinner at the exclusive Friar's Club, a Mets or Yankees game, and tickets to the Tony award-winning smash Hamilton. The Big Apple item was donated by the Donnes Debram Family and Carl Bassewitz.
Members of Jesuit's MCJROTC assisted guests with online bidding, while students with the National Honor Society dished out delicacies.
Volunteers Missy Duhon and Lori Frischhertz served as co-chairs of Celebration. Stacey LaCour chaired the all-star auction committee. Food donation and coordination was headed by Beth Vargas. Prop masters Shannon Perkins and Gabrielle Champagne outdid themselves with decorating, while Pat Unsworth, Patti Mahoney, and  Br. Billy Dardis '58 looked after libations. Karen DeBlieux invited sponsorships, and Wendy LoCoco coordinated reservations. And behind the scenes, Maura Owers served as stage manager. All received rave reviews.
In addition, Jesuit offers special thanks to Kevin Tran of CHL Linens, the team at 501 Auctions (mobile bidding), the production staff at Mahalia Jackson, Lieutenant Colonel Tim Huete '76 (MCJROTC), Mr. Jason Giaccone (Blue Jay Jazz Band), Mrs. Amy Tassin (National Honor Society), Mr. Jeremy Reuther '01 and Mr. D.J. Galiano '07 (live auction and special effects lighting), Tracey Bellina (design and production coordination), Callie Combs (communications), Jesuit's cafeteria staff (food prep), and the members of Jesuit's maintenance and facilities team.
Finally, Jesuit offers its gratitude to all those who volunteered, donated auction items, and attended Celebration 2016.
More Coverage: