Memorial Release from the Jesuit Province Office
Father Raymond Fitzgerald Dies of ALS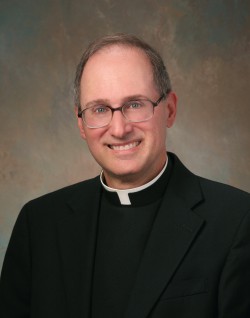 Raymond R. Fitzgerald, SJ, died September 17 at St. Alphonsus Rodríguez Pavilion in Grand Coteau, La. He was 58 years old, a Jesuit for 36 years and a priest for 25 years. Visitation will be 12:30 p.m., Saturday, September 24, with the funeral Mass at 1:30, both at St. Charles Borromeo Church in Grand Coteau. Burial will be at the Jesuit Cemetery, St. Charles College, Grand Coteau.
Fr. Fitzgerald was in his third year as president of Jesuit High School in New Orleans when he was diagnosed with amyotrophic lateral sclerosis (ALS), better known as Lou Gehrig's Disease. He stepped down as president in June 2014 and remained for a year as special assistant to the president. He moved in June of 2015 to the St. Alphonsus Rodriguez Pavilion in Grand Coteau.
In facing his diagnosis of ALS, Raymond showed his courage and deep faith, seasoned with his typical sense of humor and accompanied by a total lack of drama. Given his high profile as president of Jesuit High, his sharing of the diagnosis with the students, faculty, staff, and families had a tremendous impact. In speaking of his situation, Fr. Fitzgerald constantly returned to the Spiritual Exercises of St. Ignatius Loyola, founder of the Jesuits. He repeated the core truth that humans are created to praise, reverence and serve God; he then added: "That's why we're here. Whether we're healthy or ill doesn't enter into it."
Raymond Richard Fitzgerald was born in New Orleans on July 13, 1958, to Raymond R. and Mary Caire Fitzgerald. Survived by his mother and sister Lucy Smedstad, both of Slidell, La., he was preceded in death by his father.
A graduate of Jesuit High School…