Summer Day Camp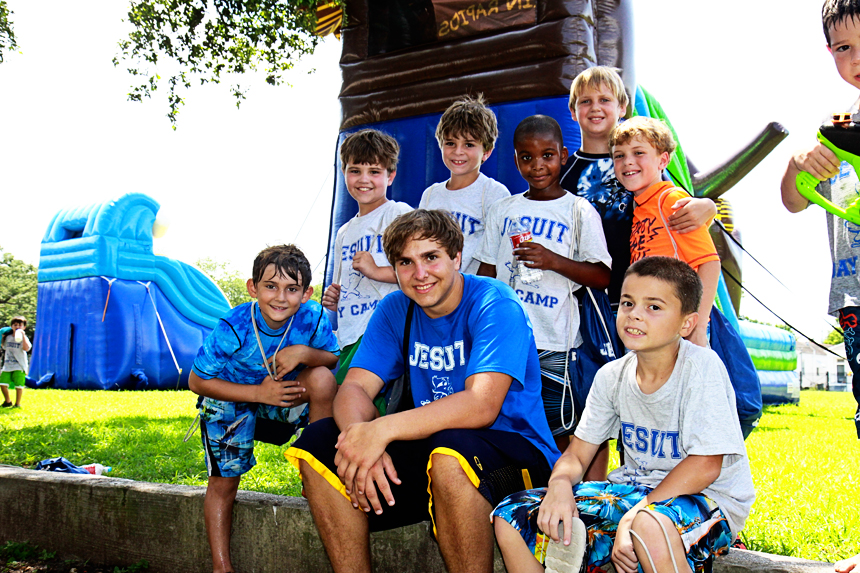 Jesuit offers a fun-filled summer day camp for boys ages 5-12. Summer Day Camp hours are from 9 a.m. – 3 p.m. Doors open at 8:30 a.m. The full Six-Week Day Camp runs from Tuesday, June 1 – Friday, July 9, 2021.
Full details below. Early registration will end on Friday, May 21. Any registrants received after that time will be charged a one-time fee of $50.
Summer Day Camp is limited to 50 campers per week. Registration is on a first come, first served basis. All coaches and counselors are CPR and AED certified. Camp activities include softball, kickball, movies, flag football, basketball, picnics, and more!
---
Day Camp Details
COST
Three-week session: $420. Weekly rate is available at $170/week. Costs include a $50 non-refundable registration fee. Weekly rates and sibling discounts also available.
REGISTRATION DEADLINES
Early registration ends on Friday, May 21. Any registrants received after that time will be charged a one-time fee of $50.
BEFORE & AFTER CARE
Before and after care is available upon request. Before care starts at 7:30 a.m. After care starts at 3:30 p.m. and ends at 5:30 p.m. Cost: $5/hour, paid daily.
LUNCH
From Monday through Thursday, campers may order lunch daily ($1.50-$2.50 each for a hot dog, hamburger, chicken sandwich, or nachos). Campers must bring a bag lunch with a drink on Fridays. Please be mindful when packing lunches and snacks to refrain from products with nuts in them.
CONCESSIONS
Drinks and snacks are sold during lunch and after camp for $0.50 – $2 each. Some items that may be sold include: sports drinks (G2), soft drinks, candy, and chips. Freeze Pops are only available after camp.
REGISTRATION INCLUDES
One Jesuit Summer Day Camp t-shirt, a sports bottle, and a camp bag
WATER BOTTLES
Each camper must bring the provided sports bottle for hydration during the day. Water stations are provided for campers to refill their bottles throughout the day.
QUESTIONS / MORE INFORMATION
Contact Troy Baglio at baglio@jesuitnola.org or call (504) 251-1204.