Soccer Camp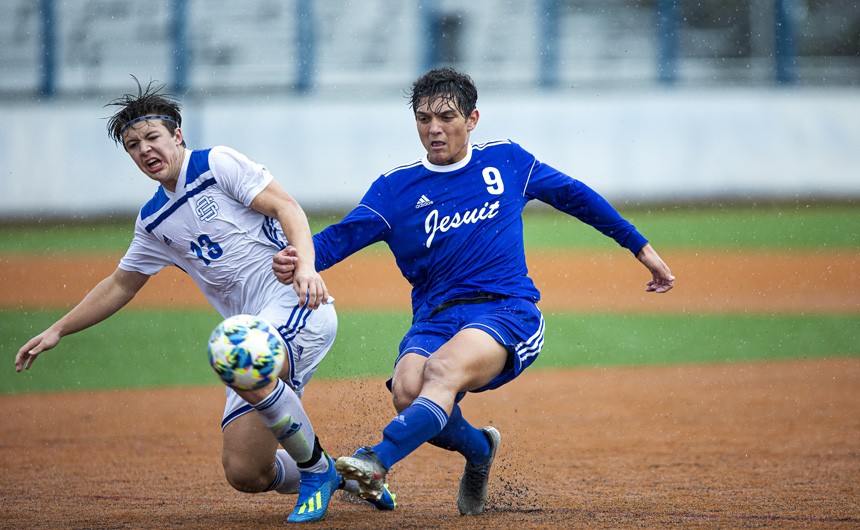 Camp Format:
5:45 p.m. Arrival
6–7 p.m. Technical Training
7–8 p.m. Tactical Training
8–9 p.m. Games
9:15 p.m. Latest Pickup
All players who are currently playing at Jesuit High School are strongly encouraged to attend the camp.
All players who are planning to attend Jesuit High School and are interested in playing soccer are invited to attend.
All soccer players who wish to participate in a competitive atmosphere are invited.
Hubie Collins
USSF A and USSF Y Licenses
Jesuit Head Varsity Coach
Jason Dormady
USSF D License
Jesuit JV Coach
Camp Details
All campers should bring soccer cleats and shin guards
Campers will be provided a camp t-shirt, sports drinks, and camp prizes
Open to boys ages 9–18
Located at John Ryan Stadium, 100 Blue Jay Way, Metairie, LA
Session 1
Location: Jesuit's John Ryan Stadium
100 Blue Jay Way, Metairie, LA
Monday – Friday
July 26, 27, 28, 29, 30
6:00 p.m. – 9:00 p.m.
Ages 9–18
Cost: $195
If you have any further questions, please contact Jesuit head soccer coach and soccer camps director Hubie Collins at (504) 722-6710 or hcollins@louisianafirejrs.com.